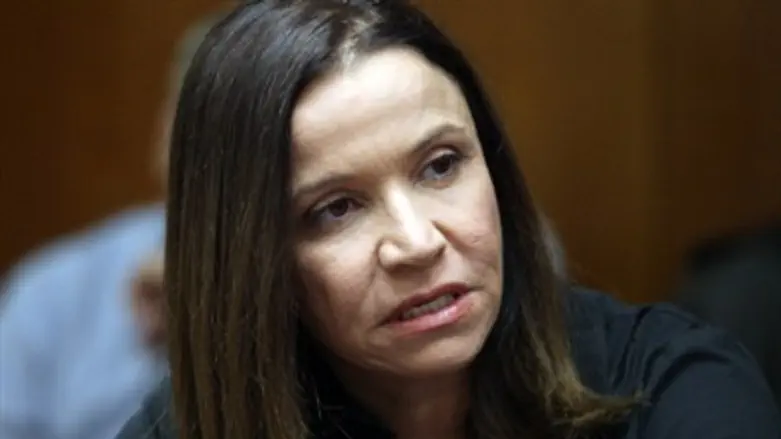 MK Shelly Yachimovich
Israel news photo: Flash 90
The Chairwoman of the Labor party and Opposition Head, MK Shelly Yachimovich, said on Saturday that she would reconsider entering the governing Coalition when the religious-Zionist Bayit Yehudi party decides to leave it because of a diplomatic agreement with the Palestinian Authority (PA).
"A clear road sign for the party that it should reconsider entering the government will be when the Bayit Yehudi leaves the Coalition because of a diplomatic agreement that is truly on its way to implementation," she said.
Until then, she added, she is determined to keep on leading the Opposition.
Yachimovich expressed confidence that she would be victorious in the party's November 21 primaries, and said: "The overwhelming majority of the faction members support me, and that is not something one could have taken for granted in the Labor party, which is about to elect the same chairwoman for the second straight time."
Speaking at a live interview panel in Shoham, Yachimovich criticized her rival in the primaries, MK Yitzhak Herzog, for "running a negative campaign that damages the party." She said that the public has had enough of these internal struggles, and promised that her supporters would maintain a "clean and positive campaign."
Hatnua Chairwoman, Justice Minister Tzipi Livni, has expressed similar hopes in the past. 
Livni said in August that there will be more support for the peace process in the government if Labor replaces Bayit Yehudi in the Coalition.
The Bayit Yehudi party opposes the two-state idea, she said, and this is "a very problematic thing, in the context of negotiations."
In order to make decisions in the course of the negotiations, there needs to be political support for the process, she explained.