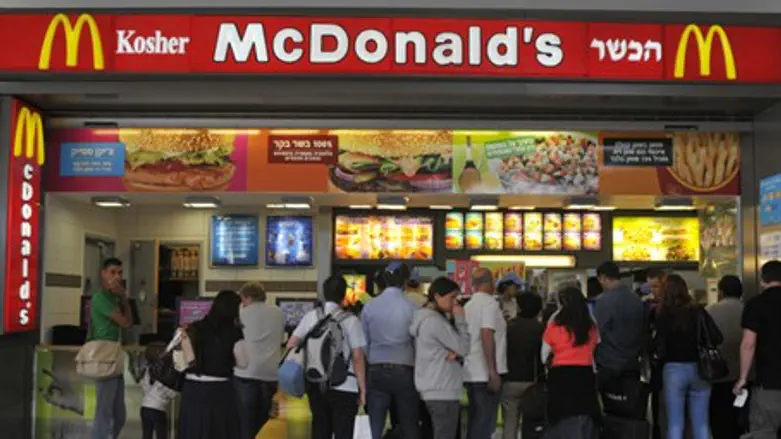 McDonald's in Israel (illustrative)
Israel news photo: Flash 90
"McDonald's - I'm not lovin' it," reads a sign posted on the My Israel Facebook page.
Activists are calling to boycott McDonald's burger restaurants nationwide over the refusal by Omri Padan, owner / CEO of McDonald's Israel and a founder of Peace Now, to place a branch in the new mall being built in Ariel, because of its location.
Slated to open in the Samaria (Shomron) city in 2014, the mall is being operated by Mega Or Rami Levi.
Demonstrators protesting the McDonald's decision called to consume Israeli Burger Ranch fast food in branches across Israel in response.
Samaria Council Chairman Gershon Mesika said in a statement, "Burgers and politics should be kept independent of each other. Supporters of Israel around the world may decide to make a statement on behalf of [Judea and Samaria] Yesha.
"Local residents will surely enjoy the Ariel mall Burger Ranch menu, and McDonald's may come to realize the financial implications of its decision."
Likewise, Yigal Delmonti, deputy director of the Council of Jewish Communities of Judea, Samaria and Gaza (Yesha Council) charged, "McDonald's has turned from a business into an organization with an anti-Israel political agenda.
"We expect Israeli citizens – especially those living in Judea and Samaria – to take this into account before entering any other McDonald's franchises," he urged. There are kosher McDonald franchises in several locations, including the Harel Mall outside Jerusalem. Most residents of Ariel, however, are not religiously observant.
"We welcome Burger Ranch's announcement that it will open a branch in Ariel, a move that will increase its visibility throughout Israel."
Peace Now executive director Yariv Oppenheimer defended Padan's decision, saying the company had a right to "act according to its conscience" and to "decide where it wanted to place its stores."
Ariel Mayor Eliyahu Shaviro called the decision "unfortunate" and pointed out that it "discriminates against the city's residents."