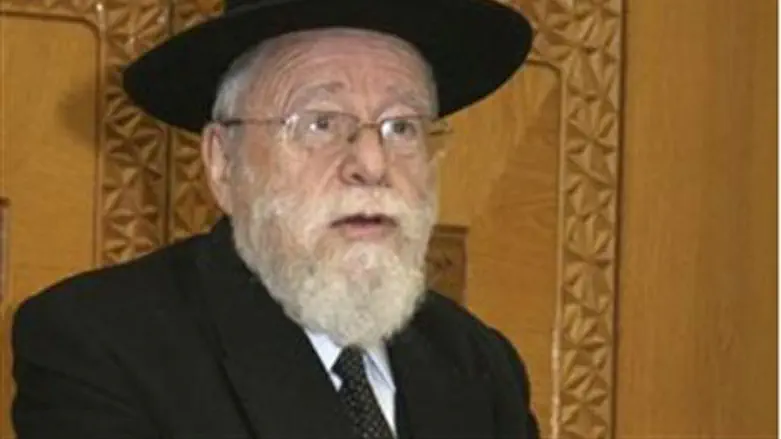 Rabbi Dov Lior
Flash 90
Rabbi Dov Lior, Chief Rabbi of Hevron and Kiryat Arba, was arrested Monday for questioning by the Israel Police. The basis for the arrest remains unclear at this time. He was freed in the afternoon after being questioned at the National Unit for Serious and International Crimes.
His wife, Esther Lior, told Israel National News the police arrested him while he was driving on the Gush Etzion tunnel road to Migron to meet with other rabbis to discuss the planned destruction of three buildings there.
"It may be they listened to his phone calls prior to the meeting at Migron and planned an ambush to stop him," said Rebbetzin Lior.
MK Uri Ariel (National Union) strongly condemned the arrest, saying, "Pursuing Rabbis for expressing halakhic opinions is not among the functions of police and prosecutors." MK Michael Ben Ari (National Union) responded to the arrest saying, "Fire the Minister of Internal Security. Police treat Arab leaders with kid gloves, but swoop down like birds of prey on the Jews. "
MK Yaakov Katz (National Union) said he was in shock when he heard about the arrest, "I call on all the rosh yeshivas to condemn and protest this disgrace of honor of the Torah, and to call for their students to walk out of the study hall at 16:00 and descend on the Russian Compound to a raise a hue and cry over this act of bitter contempt for the Torah."
Earlier this year a warrant was issued for Rabbis Dov Lior and Yaakov Yoseph, the son of Sephardic luminary Rabbi Ovadia Yosef, following their refusal to report to the police for questioning over the endorsement they gave to a book by Rabbi Yizhak Shapira entitled Torat Hamelech, the Law of Kings, which discusses the halakhot of waging war and taking non-Jewish lives in battle
At the time Rabbi Lior explained he believed he was not obligated to appear before the police despite the normative practice that one follow the law of the land because it was Torah itself being put on trial.
At the time, 70 rabbis and other religious leaders signed a petition against the warrant issued for Rabbi Lior, which was given to Prime Minister Benjamin Netanyahu and Justice Minister Yaacov Neeman, protesting the persecution of a Torah scholar by police.
"This is a disgrace to the Torah and its disciples," the statement read. "Attempting to deny free expression to our rabbis is unacceptable. Such severe, anti-democratic measures have never been taken against intellectuals from the left no matter how extreme their manifestations of hate for the state and its citizens."