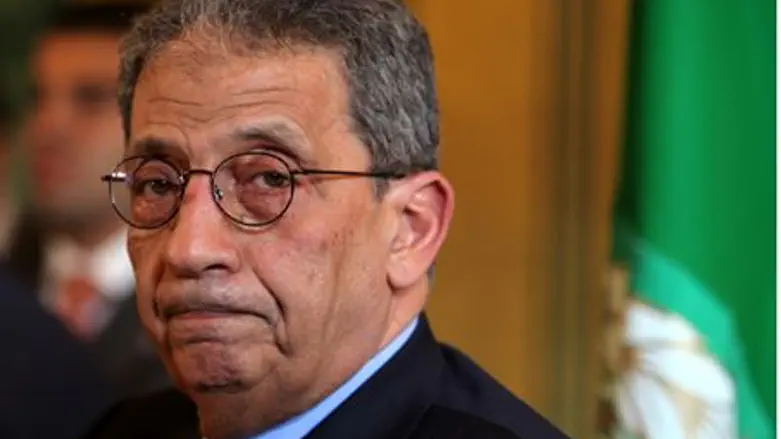 Arab League Secy Amr Moussa
Israel news photo: Flash 90
Arab League head Amr Moussa vowed Monday to respect the United Nations decision to authorize military action in Libya.
At a joint news conference with U.N. Secretary-General Ban Ki-moon, Moussa told reporters there was "no conflict" with the decision to impose a no-fly zone on Libya despite media coverage to the contrary.
Barely three weeks ago, the Arab League had rejected any form of foreign intervention in Libya, stating that Western intervention was not aimed at protecting Libyan citizens as much as it was aimed at protecting "the interests and agendas of Western forces."
Moussa added that the Arab League would not accept any massacres or unnecessary bloodshed – the reason, he said, why Libya's delegations were banned from the league and why its membership had been suspended.
"The Arab League position on Libya was decisive and from the first moment we froze membership of Libya," he said. "Then we asked the United Nations to implement a no-fly zone. We respect the U.N. resolution and there is no conflict with it, especially as it indicated there would be no invasion, but [that it would] protect civilians from what they are being subjected to in Benghazi," he added.
Ban told reporters the U.N. had decided to impose the no-fly zone specifically in response to Arab requests for the measure and praised the League for its support.
The U.N. Leader also noted the urgent need for humanitarian aid to Libyan citizens, and urged Libya's government to stop murdering civilians immediately.