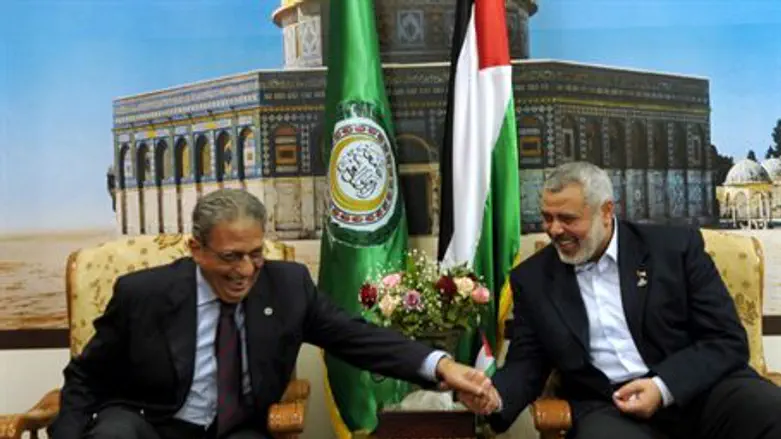 Moussa with Haniyeh
Israel news photo: Flash 90
Amr Moussa, Secretary-General of the Arab League, met with Hamas' Gaza head Ismail Haniyeh on Sunday. The two discussed Israel's naval blockade of Hamas-controlled Gaza and Hamas' rift with Fatah.
Regarding the blockade, Moussa said, "The siege must end, and the Arab League's stance on this is very clear."
He urged Hamas to reunite with Fatah, and to sign a reconciliation deal proposed by Egyptian mediators.
The visit to Gaza was Moussa's first as Arab League Secretary-General, and showed a change in the Arab world's approach to Hamas. The visit gave legitimacy to Hamas as the ruling power in Gaza, an effect that may upset the Fatah-led Palestinian Authority, which views Hamas as having seized control of the area illegally.
The Arab League head also met with representatives of other terrorist groups in Gaza, and with senior United Nations staff.
Does Abbas Back Blockade?
The Arab world has become more vocal against Israel's blockade of Hamas since Israeli commandos prevented a flotilla of boats from reaching Gaza two weeks ago. The ships refused to turn aside and were boarded by Israeli commandos; the incident ended in a violent clash in which several terrorist activist passengers were killed.
Despite this, some Arab leaders are still wary of ending the blockade, which would give more power to Hamas. According to some media sources, PA Chairman Mahmoud Abbas and Egyptian President Hosni Mubarak secretly hope to continue the blockade in order to avoid giving Hamas a victory.
Hamas presents a challenge to Abbas due to its popularity among PA Arabs. It is a challenge to Egypt as well, which struggles to control its own growing extremist Muslim groups.
Spokesmen for Abbas denied Sunday that the PA chairman had expressed support for the blockade. On the contrary, they said, Abbas demands that the blockade be lifted completely, allowing Hamas to import and export freely.
Haniyeh Angered by Arafat Image
During Moussa's visit, an incident took place that highlighted the Hamas-Fatah rift. As Moussa toured the city of Jabalia, children and youth waved banners bearing the image of former PA leader Yasser Arafat, former head of Fatah.
After Moussa left, Hamas officers fell on several of the youth and beat them for having waved the banners, eyewitnesses said. Two of the youth were arrested.