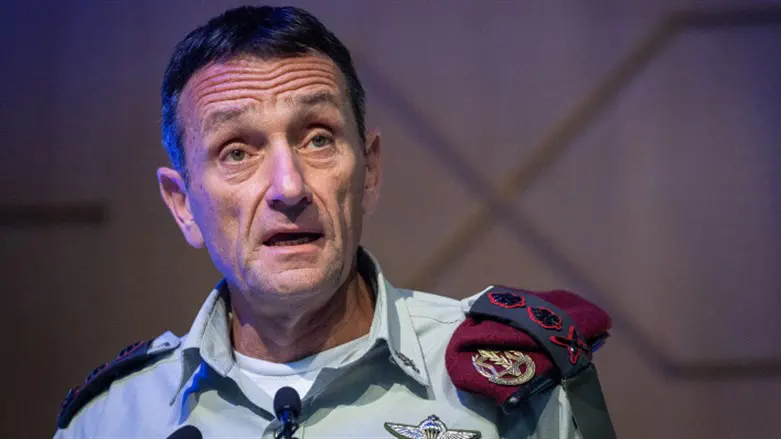 Herzi Halevi
Yonatan Sindel/Flash 90
IDF Chief of Staff Herzi Halevi spoke on Wednesday at the main ceremony commemorating the 50th anniversary of the Yom Kippur War.
"In recent months we have been threatened by internal disputes. The debate regarding our world of values, is the share of Israeli society since its foundation. Even in times of crisis, we knew how to distill the common out of them, and shelter under it together," he said.
"The ability to manage a dispute is one of the signs of a healthy society, but a dispute that is followed by a deepening of polarization and division In Israeli society is dangerous; In the face of the security challenges, having a polarizing debate is arrogant and the assumption that the IDF is immune to the devastating consequences of polarization is a dangerous conception," warned Halevi.
He strongly condemned the calls for refusals to serve that were heard following the protests against the government.
"Criticism of the IDF is allowed - we are also responsible for our own mistakes; but we must not lash out on our soldiers, who serve many years in order to maintain the security of the state -it would be an irresponsibility."
"Calling the younger generation not to enlist to a meaningful combat service - is a dangerous conception; Calls for not reporting for reserve security missions - are a harm to Israeli security and the IDF," said Halevi.
Speaking at the same ceremony, President Isaac Herzog noted the importance of a unified nation.
"A half a century after the Yom Kippur War, Israeli society is split and polarized, and the crisis that has been with us for nine months already is tearing us apart and directly harming our society, economy, and security," he said.
"At this time, amid the holiday season - between Yom Kippur and Sukkot - no one disagrees with the fact that we are in a true domestic emergency. No one disagrees that it is a time for introspection, to learn lessons, to show responsibility. We all need to understand that national resilience and security are directly tied to the domestic situation and that a solution to the crisis and bridging the gaps are urgent and important steps that we must take as a society to protect Israel's security, 50 years after the Yom Kippur War. Especially now, it is important to listen - to listen. To act in moderation, respectfully, and responsibly, to lower the flames, to stretch out a hand, and to reach a widespread consensus," concluded Herzog.