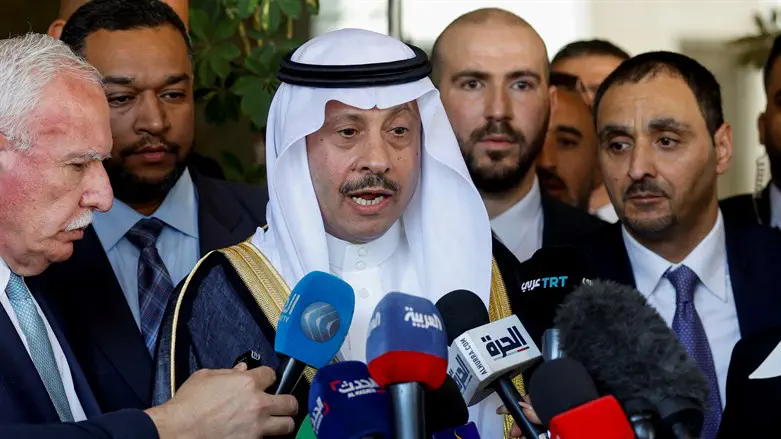 Saudi ambassador Nayef al-Sudairi
REUTERS/Mohammed Torokman
The Saudi envoy to the Palestinian Authority (PA) on Tuesday visited Ramallah for the first time and presented his credentials to PA chairman Mahmoud Abbas.
During the visit, the envoy, Nayef al-Sudairi, stated that Saudi Arabia "is working towards establishing a Palestinian state with East Jerusalem as its capital".
Al-Sudairi, who was appointed last month, is a non-resident envoy, and his visit marks the first time that a Saudi delegation has visited PA-assigned territories since 1967.
"God willing, next time this meeting will take place in Jerusalem," al-Sudairi told journalists after the meeting.
The visit by al-Sudairi to Ramallah is widely seen as an attempt by the kingdom to address the key sticking point in Saudi-Israeli normalization deal: Saudi Arabia's stance towards Palestinian Arabs.
The deal is widely expected to include Israeli concessions towards the PA. US Secretary of State Antony Blinken recently said that the Palestinian Arab issue will be part of a normalization agreement.
As part of the process, The Wall Street Journal reported that Saudi Arabia is offering to resume financial support to the Palestinian Authority which it had frozen in 2021.
Saudi officials have repeatedly stated that normalization with Israel is conditioned on the establishment of a Palestinian state.
Speaking at the UN General Assembly last week, Saudi Foreign Minister Prince Faisal Bin Farhan reiterated that stance, saying, "The stability of the region rests on a just and comprehensive solution for the Palestinian cause, and the establishment of a Palestinian state based on 1967 borders with East Jerusalem as its capital."