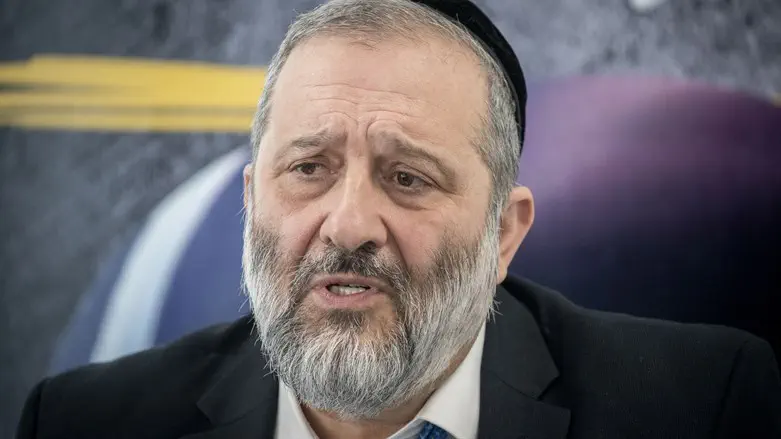 Aryeh Deri
Yonatan Sindel/Flash90
Shas chairman MK Aryeh Deri stated this evening (Wednesday) that he has no intention of returning to the Cabinet during the current government's terms, and there is therefore no need to pass the 'Deri Law' to allow him to become a minister again.
The Supreme Court ruled in January that Deri could not serve as a minister given his multiple convictions for crimes committed while serving as Interior Minister.
"We have five very talented ministers in Shas, I use my time free from government work to strengthen the movement, it is very important. Today, I personally have no interest in returning to the government table or the cabinet," Deri said in an interview with the Kikar Hashabbat website.
"It has been a very difficult year with the reforms and the protests, I don't remember anything like that. It's very difficult, but you have to know how to deal with it. The protest stopped the pace of the legislation that was supposed to happen and gave us a different perspective. It's easy to say, 'I have the majority, so I decide,' but those who have responsibility must look at the whole picture. The form of the reforms and the composition of the government and the statements from all kinds of people who led the reforms - made a lot of people fearful. It created a great trauma that there is a deliberate thought to make a new regime here," he said.
Deri attacked the opposition and said that it has no intention of negotiating in good faith to end the rift in Israeli society. "I have not yet seen a leader in the opposition, not Gantz, Eisenkot, or Sa'ar, who comes and says that there is a great danger here and we will come and enter talks. It is no secret in the last month that we have seen that there is no outstretched hand in the opposition that is ready to make a decision, we are considering an option, which the prime minister knows about, to make a unilateral move, mainly the things we were willing to consider as part of negotiations with the opposition. The president insists there is another side [to negotiate with] and I hope it will be so."
When asked if the government should respect the rulings of the Supreme Court even if the court strikes down a Basic Law, Deri responded: "Let those who want to lead the country down the path of confrontation and see who is stronger answer this question. Wisdom is knowing how not to get into these situations and how to avoid these confrontations. The responsibility to prevent a constitutional crisis is not only on the government. Yes, the responsibility is on the government but no less on the court, I hope that both sides will show responsibility."