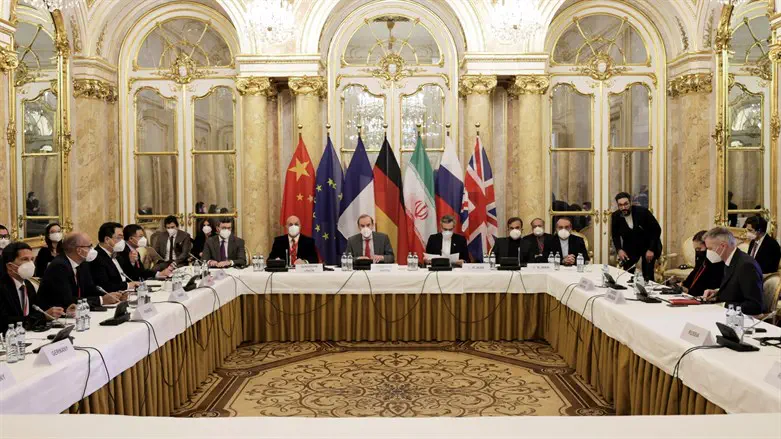 Nuclear talks in Vienna
Reuters
Iran's Foreign Minister Hossein Amir-Abdollahian said on Tuesday the Islamic Republic is ready to negotiate the revival of the 2015 nuclear deal and removal of the sanctions with the other parties based on a "September document", the Xinhua news agency reported.
Amir-Abdollahian made the remarks at a meeting attended by a number of senior Iranian diplomats and academics in the Iranian capital Tehran, while highlighting the administration's resolve to "restore the rights of the Iranian people and lift the sanctions on the country."
By "September document," the Iranian Foreign Minister refers to the final draft of an agreement prepared last fall as part of the months-long talks between the US and Iran in an attempt to revive the nuclear deal, formally known as the Joint Comprehensive Plan of Action (JCPOA).
In 2018, then-US President Donald Trump withdrew from the agreement and reimposed sanctions on Tehran.
Iran responded to Trump's withdrawal from the 2015 nuclear deal by scaling back its compliance with the agreement. The Biden administration, however, sought to return to the deal and held indirect talks with Iran on a return to compliance.
The negotiations reached a stalemate last September, when Iran submitted a response to a European Union proposal to revive the deal. A senior Biden administration official said the Iranian response "is not at all encouraging."
A US official later said that the efforts to revive the 2015 Iran nuclear deal have "hit a wall" because of Iran's insistence on the closure of the UN nuclear watchdog's investigations.
Despite the talks breaking down, recent reports indicated that the US and Iran had held indirect talks on a new agreement.
A US official subsequently clarified that the United States and Iran are not discussing an interim nuclear deal, and that Washington had merely conveyed to Tehran what steps might trigger a crisis and also those that may create a better climate between the long-time antagonists.
Secretary of State Antony Blinken later denied that an agreement had been reached between the Biden administration and the Iranian government on Iran's nuclear program.