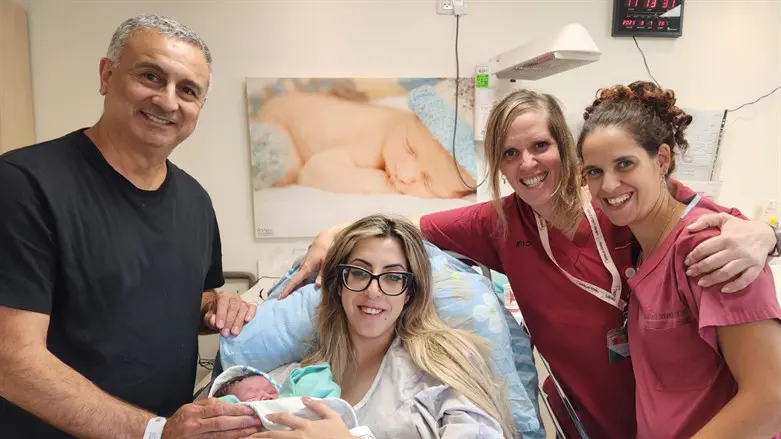 Amit Ben Yigal's baby brother
Meir Medical Center
Bereaved father Baruch Ben Yigal announced the birth of his second son three years after his son Amit fell in combat.
Baruch wrote on Facebook: "Congratulations, a brother was born to Amit Ben Yigal."
After the birth, Baruch stated at the hospital: "For me, this is closure, to come here accompanied by Prof. Amir Wizer, whose son, an officer in the Golani Reccoiasence unit, was next to Amit when he fell. I waited for the moment when I could tell Amit that his brother was born, and here, we reached that special moment.
I wish to thank the medical team at the Meir Medical Center who accompanied us through the entire process with the most professional hands there are and with the warmest heart."
21-year-old Staff Sergeant Amit Ben Yigal was hit in the head by a stone thrown from a rooftop at the exit of the village of Ya'abad three years ago. He was pronounced dead at Rambam Medical Center in Haifa.
About two weeks ago, Baruch was remarried to Daniella Afriat, and in a post published just hours before the wedding, Ben Yigal wrote, "I'm starting to understand that this is real. I have merited to fulfill Amit's will. He is surely happy and joyous for us."
The wedding took place Sunday night in the Avenue Hall and was attended by family and friends.
The ceremony was conducted by Rabbi Yosef Arviv of Holon. Meir Bloch, chairman of the Hakol Mehalev organization, was honored with the blessing and even blew the shofar during the ceremony, which was emceed by Avri Gilad.