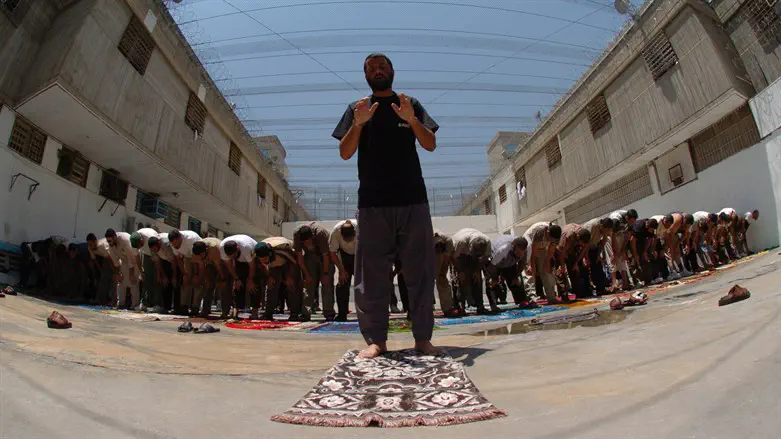 Terrorist prisoners
Nati Shohat/Flash 90
The Supreme National Emergency Committee of the Security Prisoners, which represents Palestinian Arab terrorists serving time in Israeli prisons, on Sunday announced the establishment of a committee to handle the case of the administrative detainees and the preparation for the fight for their release.
In a statement, the committee said that the new framework will deal with the preparations to combat administrative detentions through an open hunger strike that will be announced in the coming days.
According to the statement, 1,083 Palestinian Arabs are currently held under administrative detention in Israeli prisons. The administrative arrest was made for security reasons and without an indictment on the suspicion that the detainee might endanger the security of the state of Israel, and this is based on sensitive intelligence information.
"The Palestinian people's support for this strike is a victory for the blood of the shaheed Khader Adnan, and a warning to Israel not to repeat the crime of execution against any hunger-striking prisoner," the statement said, referring to the Islamic Jihad terrorist who recently died in an Israeli prison after a lengthy hunger strike.
The committee called on human rights organizations and the media were to fulfill their commitment to fight the "unjust" administrative detentions and to support the detainees.
Arab terrorist prisoners have turned hunger striking into a pressure tactic aimed at forcing Israel to release them out of fear for their lives. Israel has several times in the past caved to the pressure and released some hunger strikers.
At times, the terrorists were found to be secretly eating during the hunger strike. A prominent example of this was in 2017, when the Israel Police released footage of archterrorist Marwan Barghouti, who was caught eating in secret while maintaining the pretenses of his own hunger strike.