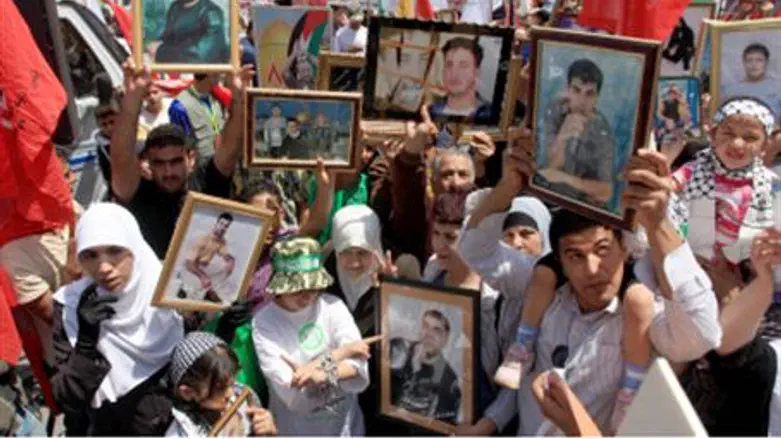 PA Prisoners Day (archive)
Israel news photo: Flash 90
Two Palestinian Authority men in Israeli prisons have ended weeks-long hunger strikes after Israel agreed to deals involving their release, the Bethlehem-based Maan news reports.
Prisoner Samir al-Barq, who refused to eat for 125 days, has resumed eating after Israel agreed to transfer him to Egypt.

Fellow prisoner Hassan Safadi, who refused food for 95 days, was told that he will be set free at the end of his current administrative detention term.

Both men said they would resume their hunger strikes if they are not freed at the expected time.

Two PA prisoners remain on long-term hunger strikes. Attorneys for the two say they are in poor health.

Many PA prisoners have announced hunger strikes following the success of a group of hunger striking Hamas prisoners in winning early releases and better prison terms. While the international media has largely focused on those prisoners held under administrative detention laws, the released hunger strikers include prisoners serving time for terrorism.

Jewish activists who announced a hunger strike over demolitions of Israeli homes in Judea and Samaria were less successful in forcing a government compromise.