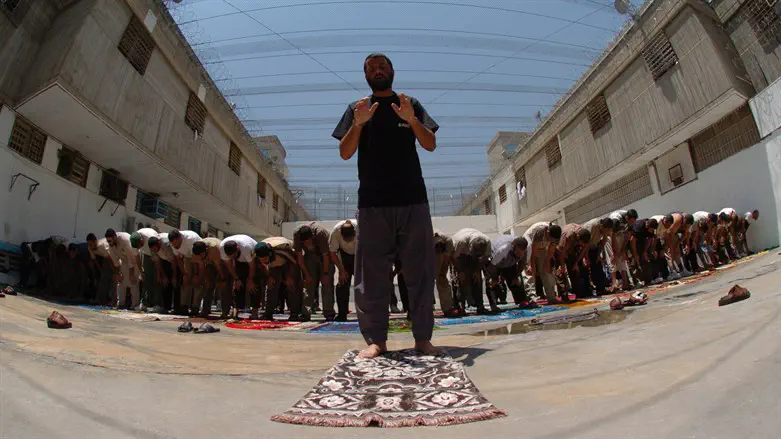 Terrorist prisners
Nati Shohat/Flash 90
Khader Adnan, one of the senior leaders of the Islamic Jihad terrorist organization in Judea and Samaria, was found early Tuesday morning unconscious in his cell at the Nitzan Prison. He was later pronounced dead at Assaf Harofeh Hospital following resuscitation efforts.
Adnan, who has been arrested by Israeli security forces several times in recent years, was arrested for the 13th time on February 5, and since then had been on hunger strike for 86 days.
He was suspected of membership in a terrorist organization, of supporting terrorism and incitement, and refused to undergo medical examinations or receive medical treatment while in prison.
The Islamic Jihad has previously threatened that if Adnan dies, the organization will see it as an elimination on the part of Israel.
Hours after Adnan's death, sirens were sounded in Israeli communities located near the Gaza Strip.
The IDF Spokesperson's Unit said that three launches from Gaza towards Israel were detected, which exploded in open areas. In accordance with policy, no interceptors were launched.
Adnan has been in and out of Israeli prisons for years, and has gone on hunger strike several times in the past. One such time was in 2012, when he was released from prison after a 66-day hunger strike.
In 2015, Adnan again managed to obtain his release from detention after a prolonged 56-day hunger strike. In the last few days, it was reported that his health has deteriorated during his latest hunger strike and there is a threat to his life.
Arab terrorist prisoners have turned hunger striking into a pressure tactic aimed at forcing Israel to release them out of fear for their lives. Israel has several times in the past caved to the pressure and released some hunger strikers.
At times, the terrorists were found to be secretly eating during the hunger strike. A prominent example of this was in 2017, when the Israel Police released footage of archterrorist Marwan Barghouti, who was caught eating in secret while maintaining the pretenses of his own hunger strike.