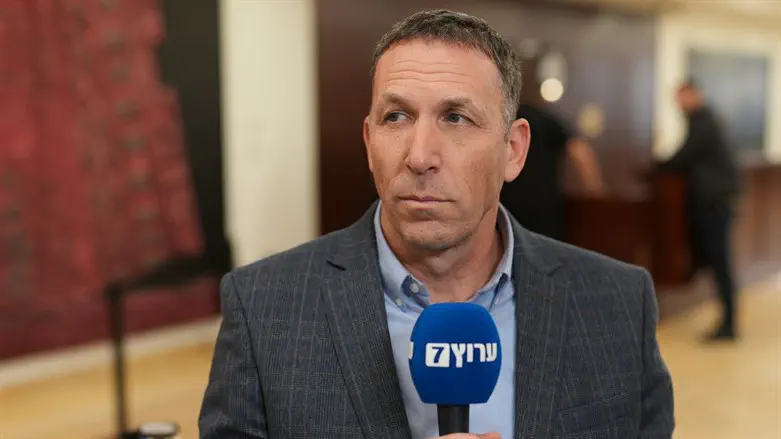 MK Matan Kahana
Israel National News
MK Matan Kahana (National Unity Party) spoke to Israel National News on Sunday and commented on the request of bereaved families that government ministers not attend ceremonies in cemeteries on Memorial Day, in wake of the recent political controversy.
"Who am I to criticize bereaved families? I think these ceremonies should be statesmanlike. For 74 years the ministers of Israel have honored the fallen in the official ceremonies in the military cemeteries and I think that's how it should be. I think this day should be a day in which all the political debates are left out and I hope it will pass with the respect it deserves," he said.
Several of the government ministers have already announced that they will not attend ceremonies in the cemeteries in wake of the protests, to which Kahana responded, "I can understand what was going through their minds when they made these considerations. I think that each of these ministers, if he had come to a cemetery, should have been respected as a representative of the government of Israel. We have one government, a government that was elected in legal elections, established by law. Whether it fulfills its role well or not is a matter of opinion, but in the end we only have one government, even the haredi ministers and those who did not serve in the army are ministers in the government Israel and they should be respected as such."
Regarding the fear that the opposition will turn violent if the ministers show up to the ceremonies after all, Kahana said, "I don't think that it will deteriorate to violence, but I am concerned that there may be some kind of protest here and there. I was the representative of the government at the Rehovot cemetery last year and when I spoke, there were those who chose to yell at me which is far from pleasant. The ministers should come and respect the day and be prepared to absorb whatever happens there, but I'm hoping it doesn't get to that."
MK Kahana is one of the biggest proponents of the negotiations on a compromise on the judicial reform. In response to a question about the chances of an agreement being reached at the President's Residence, he replied, "At the moment, one can get the impression that the parties are coming with an open heart and a willing mind. It is too early to say that there are already far-reaching agreements. I am optimistic because I think everyone understands the price we will pay if there is no reform by agreement. I am one of those who favor reform, I think it is required, it is necessary to rebalance the forces between the authorities, but it can be done with broad agreements and not in the way Rothman and Levin have done it so far."