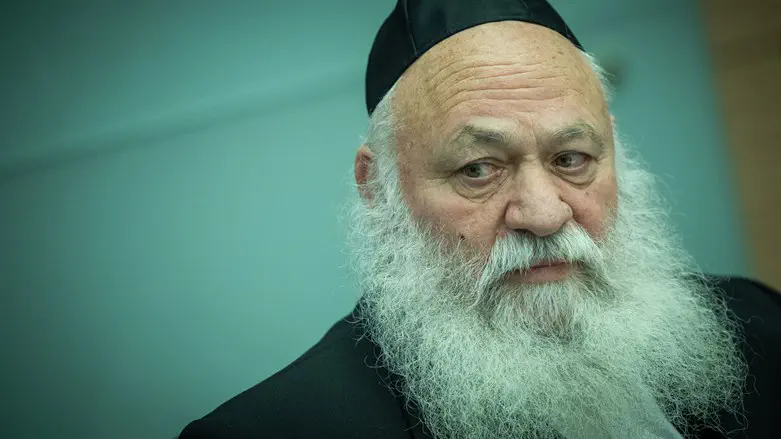 Construction and Housing Minister Yitzhak Goldknopf
Yonatan Sindel/Flash90
Construction and Housing Minister Yitzhak Goldknopf (UTJ) announced on Sunday that he would not participate in the Memorial Day ceremony at the Kiryat Gat military cemetery.
The minister was invited to the ceremony by the Kiryat Gat branch of Yad Labanim, a representative organization that commemorates the memory of Israel's fallen soldiers. After bereaved families voiced their objection to the presence of the haredi minister at the ceremony, Goldknopf decided to forgo his attendance. Deputy Culture and Sports Minister Yaakov Tesler (UTJ) also announced that he would not be attending the ceremony in Be'er Tuvia.
"I had a strong will to respect the memories of the fallen, to say a chapter of Psalms in their memories, and to say a few words about them and to their dear families," Goldknopf wrote in his letter.
"But I was notified that along with those bereaved families who wanted my attendance as a representative of the government, there are bereaved families that will be uncomfortable. It isn't right, but I prefer not to hurt their feelings."
Goldknopf added: "I'm not interested in acting, G-d forbid as an excuse to disturb such a special and significant day. Therefore, during the ceremony, I will go to the western wall and will say Psalms in memory of the fallen and will pray that the Creator will bring peace on us and on all of Israel."
In addition to the two UTJ ministers, Minister of Public Diplomacy Galit Distel-Atbaryan announced on Sunday that she, too, will respect the bereaved families' requests for her not to attend a memorial ceremony in Nes Ziona.
"I was supposed to represent the government at the Nes Ziona military cemetery, but several bereaved families from the area contacted the media with a public request for me not to attend. I always said and will say now as well, I bow my head before bereaved families. To me, their request is an order. I will not attend the ceremony. I will not hurt any parent, sibling, or child from the family of bereavement. Never," Distel-Atbaryan wrote on Facebook.
"I served in the IDF in a significant position. So did my daughter, who served as a commander in a unit that I'm not allowed to talk about. So did my son, who had to overcome the evaluation that he had as a child and had to fight just so he could volunteer for the IDF. After he managed to volunteer, he had to fight again so he could serve as a regular enlisted soldier. He made history, beat the system, and served in the Oketz (K9) unit as a dog trainer and a regular soldier. My brother and sister also served, and so did their children. I am part of a family that sees IDF service as a privilege, not only an obligation. I am also part of a moderate and liberal right-wing party, whose voters and representatives serve in the IDF and do their part," the Minister added.
Minister May Golan (Likud) also announced that she would not take part in the Memorial Day ceremony in Rishon Lezion following criticism by bereaved families of the fact that she did not serve in the IDF. Minister Meir Porush (UTJ) will represent the government at the ceremony at the Hurfeish Regional Council.