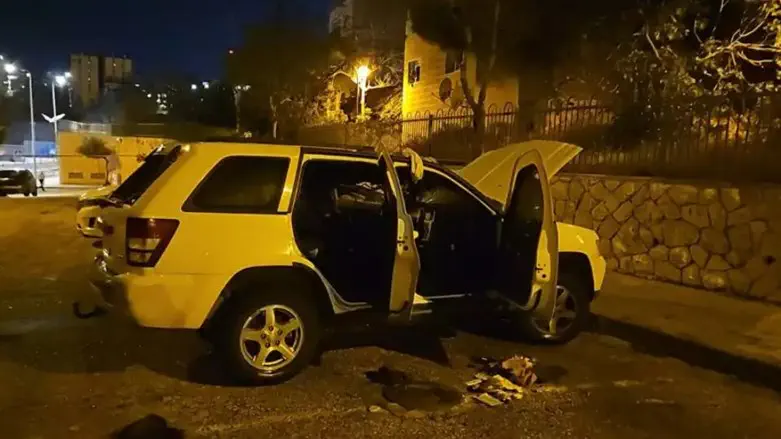 One of the destroyed vehicles
Israel Police spokesperson
A resident of one of Jerusalem's Arab neighborhoods was shot Sunday night after he shouted, "Allahu akhbar," set fire to some vehicles and harmed many others.
The suspect, in his 20s, carried out his acts of violence in the Jewish neighborhood of Neve Yaakov. He held in his hand an object which was not identified by the police officers who arrived at the scene, and he wore a coat. The police officers asked that he remove his coat, but he refused, and after he aroused their suspicions, they fired at him.
"Towards morning, police received a report regarding a person who was harming many vehicles in the neighborhood of Neve Yaakov in Jerusalem," a police statement read. "Police officers called to the scene identified the suspect, who was wearing a coat and who held some object in his hand. Parallel to meeting him, an explosion was heard from a vehicle at the scene, which later was discovered to be, as we believe, the vehicle he set fire to."
"The officers began an arrest protocol and asked the suspect to take off his coat, but the suspect did not respond to their calls. At some point, the suspect began to say, 'Allahu akhbar,' and other verses, and the police fired a single bullet towards him.
"The suspect suffered injuries and was taken to a hospital for medical treatment. Police forces arrived at the scene, and searches revealed a vehicle which was burned and at least ten additional vehicles to which the suspect harmed."
It is believed that the arson and vandalism were conducted out of nationalist motives, and the police have opened an investigation into the incident.