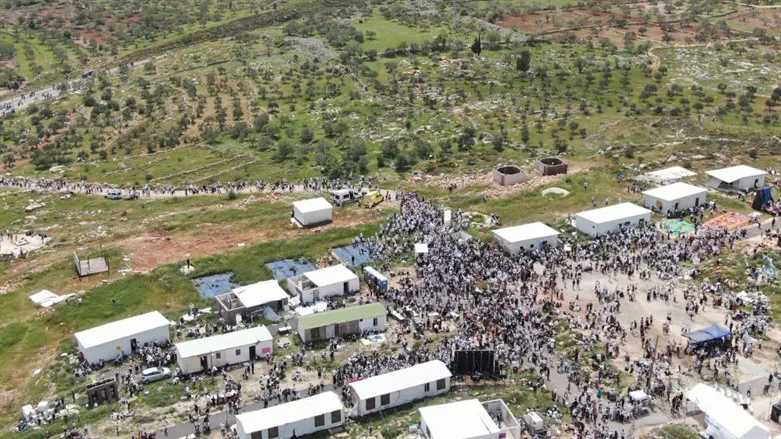 Masses in Evyatar
Ezri Tubi
About 50,000 people, including at least eight government ministers and 20 MKs participated in a march this afternoon (Monday) to the Samaria community of Evyatar, calling on the government to allow the community's residents to return and for the settlement to be fully regulated and legalized.
The march and rally were attended by rabbis, public figures, and the former residents of Evyatar who are seeking to be allowed to return to their homes, and students at the yeshiva which operated in the community.
At the beginning of the rally, the ministers and MKs in attendance signed the 'Evyatar charter,' which reads: "Today a large crowd gathered at the settlement of Evyatar with a great demand of the Prime Minister of Israel to allow the return of the 53 families of Evyatar, as well as the yeshiva and all its staff, to their homes in the settlement and the continued development of the settlement for the honor of the Land of Israel. We call on the government of Israel to establish new settlements in Judea, Samaria, the Negev and the Galilee and to preserve the nation's lands for the people of Israel for generations to come."
The ministers who attended the march included National Security Minister Itamar Ben-Gvir, Finance Minister Bezalel Smotrich, National Missions Minister Orit Strock, Negev, Galilee and National Resilience Minister Yitzhak Wasserlauf, Heritage Minister Amichay Eliyahu, Environmental Protection Minister Idit Silman, Religious Services Minister Michael Malkieli, and Minister May Golan.
מחזקים את ההתיישבות: אלפים צועדים מצומת תפוח לאביתר
Samaria Regional Council chairman Yossi Dagan told the participants: "You are the mighty spirit of the people of Israel. It is possible and necessary to settle in the Land of Israel, our eternal land, because it is ours! In these days of terror, the people are waking up, and the mighty spirit of the entire national camp, of the seed of Evyatar together with our friends in the government - is breaks out with all its might, because it is impossible to stop the power of settlement and the pioneers, the Land of Israel is on the map and Evyatar is on the map. We call for the Evyatar outline to be implemented now in memory of Evyatar Borovsky and Yehuda Guetta - this is the demand of the people in the elections, and as Begin said of Elon Moreh: We will build many more Evyatar's to come together with this government."
Nachala Movement head Daniella Weiss said: "The most effective way to deal with terrorism as it has been throughout history is to establish new settlements. We see the large public voting with their feet for the settlement of the land and the immediate return to Evyatar."
Minister Bezalel Smotrich stated: "We will settle the community of Evyatar and it will happen - with God's help - soon. We will not allow terrorism to defeat us and break our spirit - ever."
"We do not surrender to terrorism, neither in Evyatar nor in Tel Aviv," said Minister Itamar Ben-Gvir. "The people of Israel are strong. I saw the pictures of the soldiers in Tel Aviv - now everyone understands why I insist on a National Guard. This is the order of the hour. To protect the Israeli people of Israel. We are here and we will stay here.''
צילום: אמנון ויזל
credit: עזרי טובי - מועצה אזורית שומרון