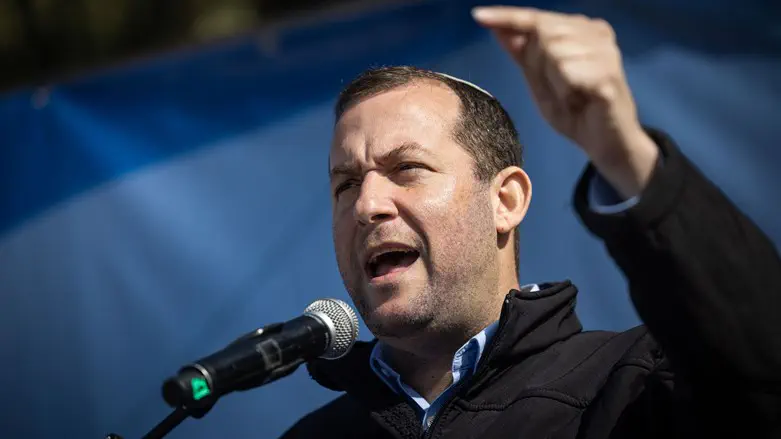 Samaria Regional Council head Yossi Dagan
Yonatan Sindel/Flash90
A day after David Stern, a dual US-Israeli citizen, was shot and seriously wounded in Huwara, on Route 60 in Samaria, Yossi Dagan, head of the Samaria Regional Council, clashed with an interviewer on Channel 13 who tried to stop him from making what he called "political" comments when criticizing the government's policies.
Stern was attacked while driving through Huwara on the main intercity route through Samaria, the only road linking Samaria residents to other parts of the country. While a Huwara-bypass road is in the pipeline, the project has been repeatedly delayed and was frozen by the previous government, whose Transportation Minister, Labor party leader Merav Michaeli, also froze other construction projects in Judea and Samaria.
In 2022, Michaeli told Channel 12 that, "It's a shame to invest in a place that, at the end of the day, won't be part of Israel." The current minister, Likud's Miri Regev, has renewed the project, which is due to be completed by 2025. Meanwhile, Israeli drivers are still vulnerable to ambush within the village of Huwara (as was the case with Hallel and Yagel Yaniv Hy"d) or to simply getting stuck in traffic while driving through, as occurred in the case of David Stern.
Dagan was interviewed from Beilinson Hospital where he had gone to visit the victims of Sunday's attack. "Right in the center of Israel it's possible for Jewish citizens to be shot, again and again, and for the attackers to flee, as there are no roadblocks and no one is confiscating the [illegal] weapons [in the Arab towns and villages]," Dagan said. "There's no deterrence and the situation is absolutely intolerable."
Dagan stressed that, "Jews living in Samaria are not going to be broken no matter how hard it gets. We will continue to build the Land of Israel, our Land, and we will never be afraid of these barbarians. But to the government I say: The people are demanding change from you and I am making this demand of the prime minister, of the defense minister, and of all the members of this government."
Hearing these words, the interviewer interjected, saying, "Yossi, the attack only just happened and I'm trying to keep politics out of it at this [sensitive] time."
Dagan responded furiously, saying, "If you mention the word 'politics' to me just one more time, while I'm standing here in the hospital with my residents whose blood is being shed, I'll cut off this call.
"This isn't politics," Dagan continued. "This is about the lives of my residents - why are you talking about politics? My residents are being shot on the roads and my obligation is to protect them. I am demanding that this government confiscate the weapons - what's political about that? Politics is trying to shut me up, just as you're doing now. I'm not playing politics - I'm trying to protect the lives of Samarian Jews."
The interviewer then withdrew his comment and asked Dagan what he thought should be done to prevent another attack.
"The roadblocks need to be restored," Dagan responded without hesitation. "We got rid of them due to pressure from the United States but they need to be restored. And the weapons confiscated.
"But the most important thing to do is to go on the attack, to attack the Palestinian Authority," he added. "We have to make [PA chairman] Abu Mazen [Mahmoud Abbas] afraid, we have to make the terrorists afraid - we're not the ones who should be afraid."