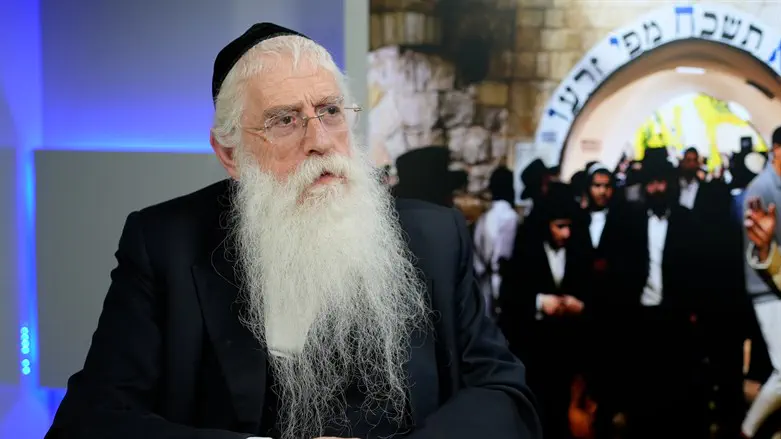 Meir Porush
Israel National News
Minister of Jerusalem Affairs and Jewish Tradition Meir Porush, from the United Torah Judaism Party, was a guest at the Israel National News studio and made clear that he opposes the compromise proposal of the judicial reform, which suggests that the Override Clause will only be possible with a majority of 65 MKs.
"I think a majority of 61 is a majority, that's the reality, 60 versus 60 is a tie and at 61, you can form a government. Netanyahu in 2015 formed a government with 61 MKs and when [Yisrael Beytenu chairman Avigdor] Liberman saw that it was working with 61, he joined one year later," said Porush.
The compromise in question was developed by Prof. Yuval Elbashan, Dean for Social Development at Ono Academic College, former Justice Minister Daniel Friedman, former head of the National Security Council Giora Eiland, and Tel Aviv University Board of Directors chairman Giora Yaron.
Under the proposed outline, the committee which selects justices for the Supreme Court would have an equal number of representatives from the coalition and opposition, and the President of the Supreme Court would be able to veto a maximum of one candidate from each bloc during each government's term in office.
The outline also would establish that Basic Laws would need to be passed in four readings in the Knesset, as opposed to the three readings required for regular laws. A majority of just 61 MKs would still suffice to pass a Basic Law, but if the Basic Law does not receive the support of at least 70 MKs, the fourth reading would be held only in the following Knesset after elections are held.
In addition, the outline would place limits on judicial review of Knesset legislation by requiring 11 of the Supreme Court's 15 justices to strike down a law and limiting the time during which the court could do so.
The Override Clause would allow the Knesset to modify or re-pass legislation struck down by the court, but only with a majority of at least 65 MKs, as opposed to the 61 MKs of Justice Minister Yariv Levin's proposal.
Minister Porush was asked if it would be difficult for the coalition, which is made up of 64 MKs, to find one more MK to achieve a majority of 65 as suggested in this outline.
"61 is a majority, I dispute this thing that someone says that 61 is not a majority. They are suggesting 65 so we won't be able to do it, and by doing so they are distorting the results of the elections. I am against this thing."
Hebrew video: