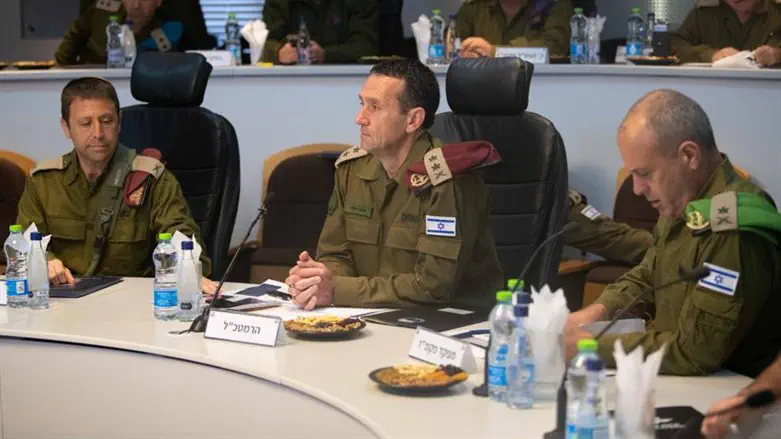 Chief of Staff presented with results of investigation
IDF Spokesperson
Central Command chief Maj. Gen. Yehuda Fuchs has presented to IDF Chief of Staff Lt. Gen. Herzi Halevi the results of the investigation into the violent riots which were carried out in the Arab village of Huwara last week, following the murder of the Yaniv brothers by a terrorist in the village.
The IDF investigation found that the riots were a serious security incident which should have been prevented, and that the scope and scale of the violence was unusual when compared to previous revenge attacks against Palestinian Arabs. There were not enough security forces in the area at the time of the riots to continue the search for the terrorist who committed the deadly shooting that day, protect Israeli civilians in the area from further terrorist attacks, and to prevent the riots in Huwara at the same time.
It was reported that lessons were learned on the subject of cooperation and command between the various organizations of the security forces - the IDF, the Shin Bet, the Israel Police, and the Border Police, as well as in the need to implement the ability to reinforce forces in the field in a speedier manner when there is the fear that a similar incident may occur.
The IDF stated that "incidents of Israeli settler violence against the security forces and the Palestinians are being investigated by the Israel Police in order to bring perpetrators to justice."
Chief of Staff Halevi said after he received the results of the investigation: "This is a serious incident that happened under our responsibility - and it should not have happened. The chain of command correctly decided the order of priorities between the various tasks, but erred in the allocation of forces and in exercising control of the incident. The expectation of every regular and reserve soldier is that they will act in a professional and ethical manner and to prevent acts such as these, as we train them and in accordance with the values of the IDF. We will draw the necessary lessons and learn from them to prevent similar incidents in the future."
The Chief of Staff was also presented with the results of the latest investigations of security operations in Judea and Samaria, including those carried out as part of Operation Break The Wave. Such operations include the elimination of the terrorist who murdered Staff Sergeant Ido Baruch last October and the elimination of the terrorist who murdered brothers Hallel and Yagel Yaniv in Huwara last week.
"These complex operations send a clear message to the terrorists, that we will find every terrorist, wherever they are," Halevi said.