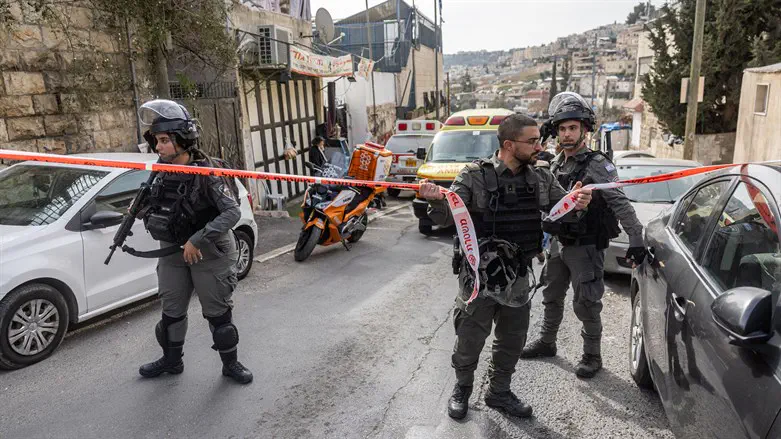 scene of the attack in the City of David
Yonatan Sindel/Flash90
The Jerusalem District Attorney's Office today (Sunday) submitted to the city's district court an indictment against a 29-year-old Arab resident of Jerusalem, after his younger brother carried out a shooting attack near the City of David about three weeks ago using the weapon he obtained and left in the warehouse next to his home.
According to the indictment, submitted through attorney Yifat Panhassi-Nevo, the accused obtained a gun and two cartridges full of ammunition for the gun and placed it in a black bag in a trash can without a lid in the warehouse next to his house, which did not have a door.
The accused's 13-year-old brother found the gun and about three weeks ago he went to the City of David on a Shabbat, equipped with the gun and cartridges, and fired multiple shots at a father and son with the intention of killing them. The son, an IDF paratrooper, was seriously wounded in the shooting and remains hospitalized. The father was moderately wounded and has been released from the hospital.
The attacker was shot by two armed civilians who responded to the shooting. The wounded officer also shot at the attacker in an effort to prevent an even more serious attack.
The attack was the second terrorist shooting in Jerusalem in under 25 hours. The previous night, a terrorist shot and killed seven people who were leaving a synagogue in the Neve Yaakov neighborhood.
The accused is charged with carrying a weapon, possession of a weapon and acts of recklessness and negligence. The prosecution asked that the court order that the detention of the accused be4 extended until the end of the legal proceedings against him.