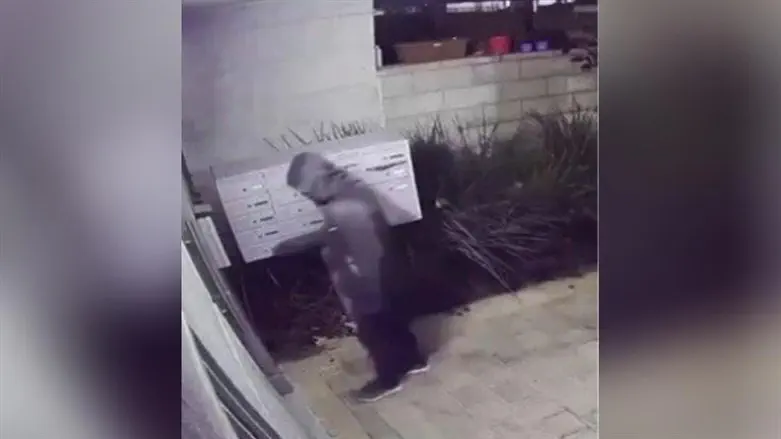 The suspect at the scene
Security footage
After a manhunt that lasted over a day, the suspect in the rape of a woman in her 30s in the town of Gedera on Thursday was arrested on Saturday.
An additional six suspects from Bedioun villages in the Negev were also arrested.
According to police, the evidence found at the scene pointed to one specific family that seemingly works in the city. Seven suspects were arrested both in Israeli and Palestinian authority territory.
National Security Minister Itamar Ben-Gvir stated: "Compliments to Police Commissioner Kobi Shabtai, Central District Commander Avi Biton, and the police forces who took part in the operation, during which the suspect in the Rape in Gedera and six additional suspects were arrested. I hope the investigation will find the truth and quickly reveal these lawless men.
The quick arrest is very important for Gedera residents' feeling of security and for uncovering the truth. The police must check if this rape is on a nationalistic basis, and if so, we must quickly proceed with my bill to exacerbate the punishment.
At the same time, I ordered the commissioner and the district commander to emphasize the feeling of security in Gedera and the claim that there are many illegal infiltrators in the Golda neighborhood. We will do everything so that the citizens of Israel feel safe."
Police Commissioner Yaakov Shabtai congratulated the police officers responsible for the arrest of the suspect in the recent home invasion and rape in Gadera: "From the first moment, we opened all the laboratories for the investigation and did not spare any technological and investigative means in order to reach the suspect. I congratulate all the police officers who were involved in the hunt and the complex arrest. The Israel Police will do everything to bring the rape suspect to justice, and we will demand that he be severely punished."
The victim testified that the suspect entered her apartment in the middle of the night through a first-floor balcony. He tied her up and raped her while her three children were in the next room. After the rape, the suspect allegedly stole property and escaped. The woman then called the police.