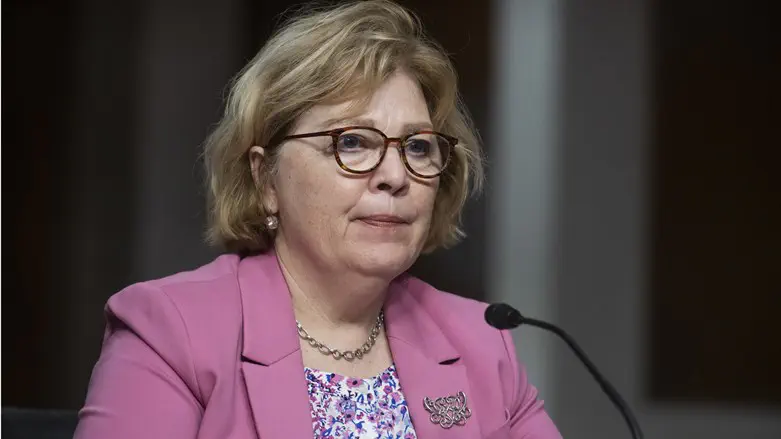 Barbara Leaf
Rod Lamkey/CNP/Sipa USA via Reuters Connect
US Assistant Secretary for Near Eastern Affairs Barbara Leaf said on Thursday that the US is "urging de-escalation and a calming of the situation" following the IDF's activity in Jenin, during which a number of Islamic Jihad terrorists who were planning to carry out attacks were eliminated.
"A number of us have been working the phones since early this morning to get an understanding of what's developing, what's happened, and to urge de-escalation and coordination between Israeli and the Palestinian security forces," Leaf told reporters in a special briefing in which she previewed Secretary of State Blinken's upcoming visit to Israel, Egypt and the Palestinian Authority.
"We are concerned, obviously, at a couple things. One, we understand there were civilian casualties, which is quite regrettable. And then, obviously, there is the potential for things to worsen in security terms, in terms of protests or any other kind of kinetic action," she added.
"But we're – we are in touch, in close touch, with our diplomatic and security folks on the ground. I spoke with Ambassador Nides several times this morning and other folks in our organization out there, talked to General Mike Fenzel, who heads up our security mission, and I've been in touch with Israeli and Palestinian officials as well. And as I said, we are urging de-escalation and a calming of the situation."
Leaf also said the US is against the Palestinian Authority's (PA) announcement that it is halting security coordination with Israel following the counterterrorism raid in Jenin.
"Obviously, we don't think this is the right step to take at this moment. Far from stepping back on security coordination, we believe it's quite important that the parties retain – and if anything, deepen – security coordination. And obviously, we'll be continuing to talk to PA and Israeli officials all the way up through our arrival on the ground in a couple of days," she said.
Asked about the PA's threat to once again go the UN and to the ICC, this time about the raid in Jenin, Leaf made clear, "We don't think it makes sense to be going to international fora at this point. This is a – this is exactly the point at which they need to engage with each other, and that's – that will be the nature of our discussions with both sets of officials."
To the question of whether Blinken plans to raise the planned judicial reform during his meeting with Prime Minister Benjamin Netanyahu, Leaf replied, "The Secretary is going to have an opportunity to hear from a wide swath of Israelis, both the Israelis inside and outside of government. And it's clear that this issue of the judicial legislation packages is one that's sparked intense, intense discussion, debate within Israeli society. It's clearly a measure of the vibrancy of the democracy that this is being contested so clearly up and down across segments of Israeli society. So he's going to be interested to hear people's views on this, and I don't know where things will be a couple days hence. But he will clearly be interested in hearing from people both in and outside of government on this issue."