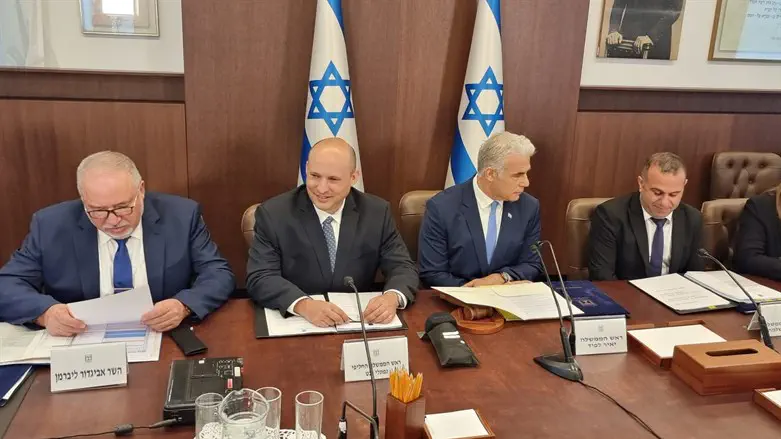 Cabinet meeting
Hezki Baruch
Prime Minister Yair Lapid addressed the rising cost of living and recent instances of violence against women during the weekly Cabinet meeting Sunday.
Lapid began: "Violence against women is a stain on the country and it cannot continue. Just last week, a woman was murdered by her husband, again, and a daughter was murdered by her father. Additional horrifying details were revealed in the rape case of the female prison guard. Additional humiliating correspondence was discovered by the basketball players in the case regarding underage women."

"Even though all of these cases differ from each other, they have one common denominator: Terrible violence directed against women. It is our responsibility as a society and our obligation as the government to eradicate this phenomenon.

He also addressed the Gilboa Prison 'pimping scandal. "Transportation and Road Safety Minister Merav Michaeli contacted me in order to hold a special meeting on the issue; we will hold one. Finance Minister Avigdor Liberman contacted me so that there will be an independent investigation into the grave suspicions regarding the rape of the prison guard."

"It cannot be than a soldier is raped by a terrorist during her service. Yesterday I spoke at length on the matter with the Public Security Minister and Israel Prison Service (IPS) Commissioner Katy Perry.
"I was presented with the steps that have been taken by the IPS to ensure that such an incident never happens again. The incident which is under review, which took place during the term of the previous government, is under a gag order but it must – and will be – investigated. We will make certain that the soldier receives assistance. We will deal with the accused to the fullest extent of the law and we will ensure that such an incident does not recur.
"This government has done more than any other on the issue of violence against women. More than NIS 200 million has been allocated for the national program to prevent and deal with violence in the family.
"Additional shelters for victims have been established, and police officers, prosecutors and judges are being trained to deal with sexual and family violence. NIS 21 million have been invested in mental health for victims.
"Of course, this is far from enough. We need to do more and we will do more. In this country, women and girls need to feel safe at home and when they go out.
Lapid announced the establishment of a joint industrial zone with the Kingdom of Jordan. "Today the government will decide on establishing a joint Israeli-Jordanian industrial and employment park. The final details on this initiative were addressed last week during my visit with King Abdullah II in Amman."
:This is an initiative that will increase employment to both countries, will advance our economic and diplomatic relations, and will enhance the peace and friendship between our two countries. I thank the Transportation and Road Safety Minister for mobilizing all of the relevant officials for the process.
"This is a joint industrial zone on the border. It will facilitate initiatives and allow Israeli and Jordanian businesspeople to communicate directly. It will create joint initiatives in trade, technology and local industry.
"Today, the government will bring another important part of the _Nefesh Achad_ reform for the benefit of disabled IDF veterans. This is a series of operative steps that will make life easier for the best of our sons, who were wounded and became disabled during their military service.
"NIS 100 million is being allocated to this part of the reform, out of NIS 900 million for the entire project. However, the main part of the decision is to make the bureaucratic processes easier, to clarify the criteria for the disabled, and to address the matter in government decisions as opposed to internal regulations.

"I commend Defense Minister Benny Gantz and Finance Minister Avigdor Liberman for their welcome efforts on the matter. The State of Israel has an immense moral obligation to these men and women, and today we are making good on a small part of this debt.

Turning to the rising cost of living, Lapid said: "Several of the largest retail networks informed importers this week that they are refusing to raise prices on pharma products, coffee, laundry powder and a whole range of other products. I commend them; this is how it needs to be."

"This government will also take a stand. If importers raise prices in an unrestrained manner, they will discover that we have opened the market to parallel imports and have removed Economy and Health ministry impediments and, mainly, have brought competition to the markets.

"Whoever thinks they have a monopoly on certain products, is mistaken. For 15 years nothing was done about the cost-of-living but this government is different: The price of gasoline will be lowered at midnight tonight by NIS 1.5 per liter. We have started a reform in imports and we are determined to proceed at full throttle.

"The Economy and Industry Ministry has published comparative data on basic products and there is a gap of dozens of percentage points. I call on the Israeli public to purchase wisely. You can reduce your expenses by dozens of percentage points.

The cost-of-living is a national challenge. Families cannot finish the month. Check and compare prices. Practically every product on the market has parallel products of a higher quality and at a much lower price. If we work together, government and citizens, we will lower the cost-of-living together," Lapid concluded.