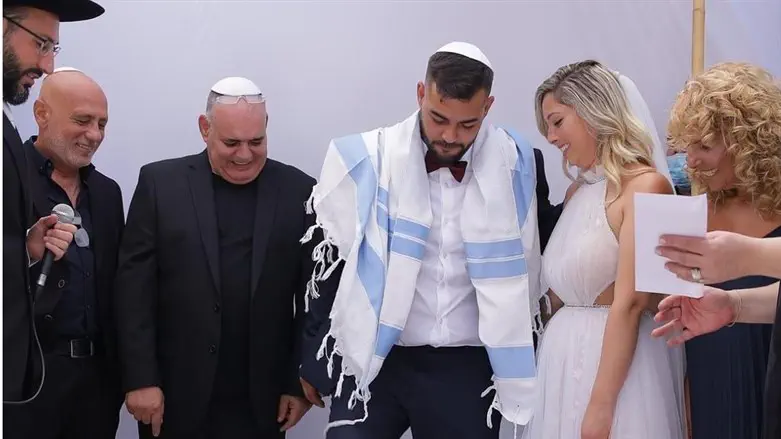 Dorel Haim
Belev Echad
Returning to civilian life after military service is a challenge for any veteran, but for IDF veterans who were wounded-in-action (WIA), the challenge of reclaiming normalcy is incomparably greater. For young heroes who very nearly lost their lives to fighting or terror, it takes enormous physical and emotional endurance, grit and determination to overcome debilitating physical disabilities.
Stav Mizrahi, 28, is one IDF veteran who was seriously wounded while serving in the super-elite Maglan unit during Operation Protective Edge in the outskirts of Gaza. "We were assigned to enter a new location in Khan Yunis and take up positions there. Only seconds after I entered the house, I heard a click followed by a massive explosion that sent me hurtling backward in an overpowering wave of thick black smoke. My leg exploded in agony as shards penetrated, but there was no time to focus on the pain. The place was booby-trapped, and we needed to escape urgently. Someone bandaged me, and we all dove for cover. Before we knew it, we were being fired on from every direction at once, and I saw one friend after the other fall. We began evacuating the wounded, returning fire throughout it all. The pain was blinding, but survival was foremost on my mind. At some point, thankfully, they evacuated me to the hospital. What followed was six months of excruciating rehab after which I flew to the United States for a year to get away from it all."
Stav relates that the return to life was brutal. He was barely out of adolescence, and all he wanted was to recuperate and return to life like everyone else. Instead, he found himself facing a grueling period of rehabilitation from physical and emotional trauma, a process further complicated by the ensuing challenge of finding a way to channel his strengths to acquire an education and start a career.
Shifting the spotlight, we meet Dorel ben Haim, 30, another IDF veteran. "I was inducted at the age of 18 into the Rotem (435) unit of the famous Givati Brigade, underwent intensive training as a combat soldier, and was then assigned to a frontal command liaison role in the Judea and Samaria Operations Department. As a liaison officer, I was on high alert and in constant communication with Headquarters, ready to report any data in real time.
"One Saturday, we received an urgent summons to a site where Palestinian terrorists were sending Molotov cocktails, explosives, rocks and bottles of burning hot oil at Israeli cars on the main highway junction. We got there and made use of non-lethal weapons—smoke grenades and rubber bullets—to get them to disperse. Even as our forces got them to retreat, the terrorists continued hurtling rocks and boiling bottles of oil at us, and we ended up chasing the band of terrorists into the Beit Ummar refugee camp.
"It's hard to describe the scene of one of these refugee camps, with its tiny, one-meter-wide alleys and houses and buildings so tightly packed, they're practically on top of each other. During the pursuit, I dashed back alone to my jeep to change the batteries in my signaling device. It was already late afternoon, and we'd been breaking up clashes all day long. I changed the batteries quickly and hurried back alone down the narrow alley to catch up with my unit.
"As I was sprinting down the alley with my weapon pointing straight ahead, out of the corner of my eye, I noticed a washing machine positioned to drop off the roof of a building right onto me. I tried to stop, but I slipped instead and found myself flat on the ground, frozen in terror. And then, I saw the washing machine hurtling down four flights from the roof, directly toward me.
"During those awful seconds, I saw my whole life pass before my eyes. I felt the end coming; I envisioned my family attending my funeral. But then…the washing machine landed less than two centimeters from my head. I felt the air whooshing against my face; I felt the force of the impact, but miraculously, it didn't touch me.
"I was in a state of shock, so I'm not exactly sure what happened next. The driver of our jeep must have followed me into the alley and seen it all happen. He pulled me out of the danger zone, got me safely into the jeep and poured water on my face to knock me out of my daze, and we went on as if nothing had changed.
"But something inside had changed, and I wasn't the same after that. Today, in retrospect, I know that I was suffering from a condition that I'd barely heard about until then—PTSD.
"Throughout the ensuing months and years, I was a shell of the vibrant young man I'd been. I had no energy for life and no desire at all to even get up in the morning. I existed in a black cloud, depressed, and found myself struggling in every realm of life. I was discharged from the army, but wandered about aimlessly with neither direction nor purpose. I couldn't get a decent job or support myself, because no employer wanted me, and even those who were compassionate enough to hire a traumatized veteran eventually despaired and let me go after two or three months…"
Life could have followed this hopeless pattern and abandoned both Stav and Dorel—along with dozens of their fellow WIA veterans—to self-destructive behaviors. Yet right when all hope seemed lost, a window opened and Belev Echad entered their lives. Belev Echad is a global movement dedicated to helping physically- and emotionally-scarred IDF veterans reintegrate into civilian life with the love and support that they need to thrive.
Co-founder Rabbi Uriel Vigler of Manhattan expresses, "After all they endure, when these wounded soldiers complete rehab and are ready to begin the gradual return to normal life, they suddenly find themselves facing a new kind of uphill battle. At Belev Echad, we make it our life's mission to give these young heroes the opportunity, support and power to advance in life, develop their skills and talents, and build successful careers, no matter what they choose. We sponsor IDF veterans as they further their education and then support them through the process of finding jobs, and we've witnessed incredible results—true miracles."
Following assistance and support from Belev Echad, both Stav and Dorel are today employed in lucrative positions in two of Israel's leading companies, serving as role models to their colleagues and other IDF veterans as individuals who scaled the mountain of challenge to succeed in life.
Dorel relates: "Finding a job after discharge from the army made me feel so lost and frustrated. But the awesome guys at Belev Echad didn't let me down. I met with Or Porat, who directs the organization's Career Department, and we discussed my strengths, interests and capacities. Together, we created an impressive resume, and before long, I was contacted by Sharon Strachman, one of the directors at Belev Echad, who helped place me in my dream position. Today, I'm employed 7 months as the personal assistant of the Vice CEO of Zahavi-Atzmon, a daughter company of Israel's Ashtrom Group, responsible for 5 branches and their exhibits. I deal with all the company's senior faculty, am active in the internal aspects of the organization, and work together with the Vice CEO who's an incredible person."
Raz Badani, also a director at Lev Echad, expresses: "We're going to continue doing everything in our power to place hundreds of IDF veterans into the workforce. After all they've given for our country, this is our chance to give back to them."
Stav shares that he's currently employed in the business development department at Ashdar, also of Ashtrom Group. "After a preliminary year of training, I consulted with Sharon and asked her advice regarding whether to continue the regular track and work as an appraiser in a property appraisal office, or make the move into development. Sharon and Belev Echad once again took the initiative to send my CV to Ashtrom, and it wasn't long before I had several interviews lined up. It's unbelievable, but on August 1, I'll be finishing a full year at Ashdar."
Shevy Vigler, Uriel's wife and co-founder of Belev Echad, expresses, "There's incredible joy and gratification in watching these amazing guys grow and flourish after years of struggling. We're reaching out to any IDF soldier or veteran who wants that extra help or guidance and inviting you to join us, because we're here for you."