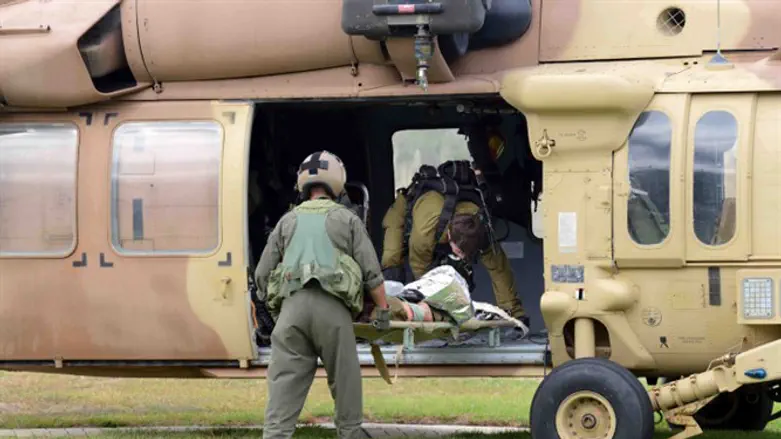 Evacuating wounded
Flash 90
The mother of the IDF officer who was moderately wounded by sniper fire on the Gaza border was summoned from a vacation in Eilat to Soroka Hospital in Be'er Sheva.

"There was a miracle and everything is okay, thank G-d," she said at the hospital. "I wish all the soldiers will return safely, protect themselves, because I see that it is not over."

"I am waiting for my son to wake up and it seems that everything is really all right and that he will heal," she said. "I encourage everyone there, not just there ... I was worried, of course I was worried ... Apparently all the mothers have cause for concern, there's a mess there that does not stop for a moment."
Last night, it was announced that in the most serious incident on the Gaza Strip border since the ceasefire, an IDF officer from the Givati brigade ​​was injured Wednesday night.

The officer's condition was initially defined as serious, but after that his condition improved slightly and is now defined as moderate and stable. The IDF Spokesperson's Office said that nine rockets were fired at Israel during the night and this morning, and that one of the rockets was intercepted by Iron Dome. There were no casualties and no damage was caused.

The officer, a unit commander in the Tzabar battalion, was wounded by a sniper in the Kissufim area, very close to the scene where Sergeant Aviv Levi, from the same platoon, was killed on Friday.