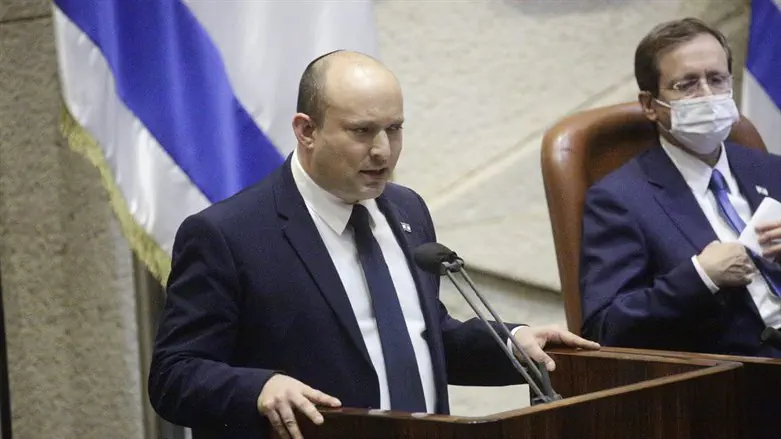 Naftali Bennett
Shalev Shalom/TPS
A new poll published Friday showed that 58% of Israelis do not want new elections.
The poll, conducted by Maagar Mochot for Israel Hayom, showed that the bloc led by opposition leader and former Prime Minister Benjamin Netanyahu would receive 60 Knesset seats - exactly half of the 120 seats in the parliament.
At the same time, only one-quarter of Yamina's voters will vote for them again.
According to the Israel Hayom poll, were elections to be held today, the Likud would receive 35 Knesset seats, followed by Yesh Atid with 19. Sephardic-haredi Shas would receive nine Knesset seats, making it third-largest party in the Knesset.
Four parties would receive eight seats: Religious Zionism, Ashkenazic-haredi United Torah Judaism, Labor, and Blue and White.
Both the Yisrael Beytenu party and the Joint Arab List would receive six Knesset seats, while Yamina would receive five seats. The United Arab List (Ra'am) and left-wing Meretz would each receive four Knesset seats, barely passing the electoral threshold. The New Hope party, led by Justice Minister Gideon Sa'ar, would not pass the electoral threshold.
Divided into blocs, the results are similar to those of a Maariv poll: The current coalition would receive just 54 Knesset seats, while the bloc led by Netanyahu would receive 60 seats. The Joint Arab List, which traditionally refuses to join any coalition, would receive the remaining six seats.
On the question of which government respondents would prefer, 41% said they would like to see a coalition headed by Netanyahu, supported by MKs leaving the current coalition. Twenty-eight (28%) said they prefer the current coalition, while 11% said they would like to see a coalition headed by another MK from Likud. The remaining 20% said they did not know.
Regarding who the individual most suited for the role of prime minister is, 41% of Israelis named Netanyahu, and 15% of Israelis named Foreign Minister Yair Lapid (Yesh Atid). Another 9% named Defense Minister Benny Gantz (Blue and White). Just 6% of Israelis said that Israeli Prime Minister Naftali Bennett is suited for his position, while 5% named former Jerusalem mayor Nir Barkat as their preferred candidate.
On the question of what they would like to see happen now that the coalition has lost its majority, 31% said that they would like to see the current government continue its term, while 29% said they would like new elections, and 27% said they would like a new government to form without new elections. The last 13% said they did not know what they would prefer.
When asked for their opinion on why coalition chair MK Idit Silman (Yamina) quit the coalition, 47% said she quit due to political motivations, while 31% said she quit due to ideological reasons and 22% said they did not know.