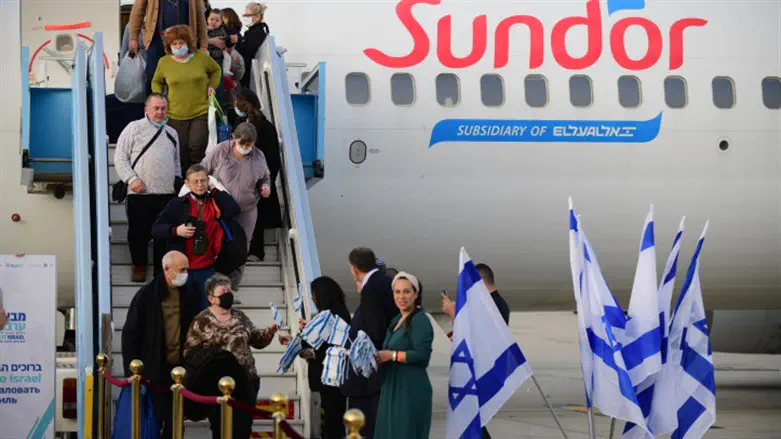 Immigrants from Ukraine arrive in Israel, March 6th, 2022
Tomer Neuberg/FLASH90
In comments suggesting that a new coalition crisis may be brewing, Likud MK and Culture & Sports Minister Miki Zohar said on Wednesday evening that the government will not be amending the Law of Return within 60 days of taking office, despite the fact that the coalition agreements require it to do just that.
Zohar made the comments at an event held on the issue which was organized by the College of Law and Business, the Israel Democracy Institute (IDI), and the One Million Lobby (a public lobby that advocates for Russian-speaking immigrants and which notes in its own publications that around a third of Russian-speaking Israelis are not considered Jewish by the Chief Rabbinate).
Explaining that it's "not always easy" to implement coalition agreements, Zohar said that because the issue requires "extensive discussion, legislation would not be happening within the first 60 days of the government." The legislation he was referring to concerns the "grandchild clause," which permits any person with at least one Jewish grandfather (or a Jewish spouse) to acquire automatic Israeli citizenship.
The need to reform the Law of Return so that it fulfills its intended purpose of repatriating Jews to the Holy Land has been recognized for years. Data on immigration from Eastern Europe paints a dramatic picture of just how far the Law of Return has failed in this respect. In 1989, just after the Iron Curtain fell, 93 percent of those immigrating to Israel were Jewish. Four years later, that figure had dropped to 72 percent; by the turn of the century, less than half of those gaining citizenship via the Law of Return were Jewish.
Two years ago, in 2020, the number was down still further - just 28 percent of immigrants to Israel were Jewish. And of the refugees from both Russia and Ukraine arriving in the country since war broke out there, under a third are Jews. The overwhelming majority of non-Jews claiming Israeli citizenship have no intention of converting to Judaism; an average of under a thousand per year have converted since the grandchild clause was introduced into the Law of Return, while during that same period, around a million non-Jews immigrated to Israel.
Zohar is not the first Likud member to express reservations regarding amending the Law of Return; his colleague MK Yuli Edelstein has also stated his doubts, and Likud MK Amit Halevi, speaking at Wednesday's conference, said that, "Those with Jewish heritage along with certain cases of grandchildren will certainly [continue to] be permitted to immigrate to Israel," although he admitted that the definitions did need to be tightened up to a degree.
Otzma Yehudit MK Amichai Eliyahu was also present at the conference and echoed Zohar's sentiments. "It's going to be a long journey toward amending this law," he said, adding that, "We need to change the conversion system too, but it shouldn't be a total shake-up that causes a schism."
National Unity MK Zeev Elkin, on the other hand, was scathing in his criticism of any attempt to delete the grandchild clause, claiming that it would exclude "all non-Orthodox communities in the Diaspora ... causing a rift between Israel and Diaspora Jews. It would be like saying that a Jew is only someone who is Orthodox."