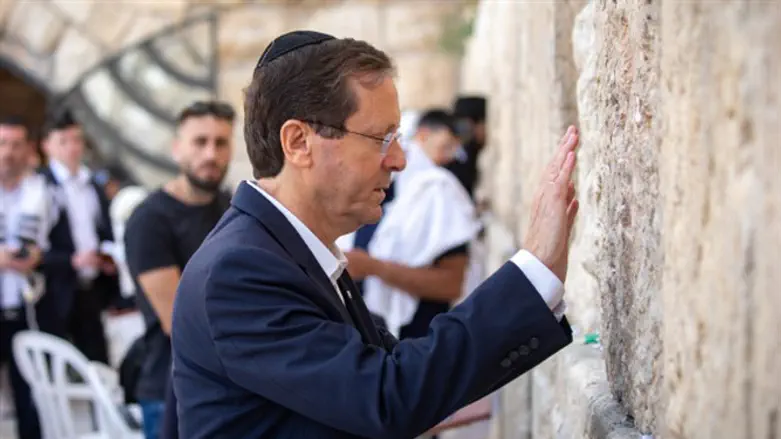 Isaac Herzog
צילום: Olivier Fitoussi/Flash90
Isaac Herzog, the chairman of the Jewish Agency and former chief of Israel's Labor Party, was elected President of Israel Wednesday.
Israel's parliament voted in a secret ballot Wednesday, beginning at 11:00 a.m. and ending just after noon.
Knesset Speaker Yariv Levin formally opened the special session Wednesday morning, as the candidates made their way to the Knesset plenum.
Israel Prize laureate, bereaved mother, and educator Miriam Peretz faced off against Herzog, the son of Israel's Sixth President, Chaim Herzog.
After the secret ballots are cast by the Knesset's 120 MKs, Knesset officials counted the votes, while the plenum session reconvened.
Herzog bested Peretz by a wide margin, receiving 87 votes to Peretz's 26, the Knesset announced Wednesday afternoon. Six MKs abstained from the vote.
Opposition Leader Yair Lapid (Yesh Atid) congratulated Herzog in a statement shortly after the results were released.
"I congratulate my friend, Isaac 'Bougie' Herzog on his election as President of the State of Israel. A worthy and wonderful man who is always focused on the good of the country and the Jewish people. Good luck Mr. President!"

"I also congratulate Miriam Peretz, she will forever be president of the hearts of our people."
המועמדת לנשיאות, מרים פרץ עם קבוצת תומכים בכניסה לכנסת
credit: דוברות הכנסת - נועם מושקוביץ
credit: דוברות הכנסת - נועם מושקוביץ
credit: דוברות הכנסת - נועם מושקוביץ
credit: דוברות הכנסת - נועם מושקוביץ
credit: דוברות הכנסת - נועם מושקוביץ
credit: דוברות הכנסת - נועם מושקוביץ
credit: דוברות הכנסת - נועם מושקוביץ
credit: דוברות הכנסת - נועם מושקוביץ
credit: דוברות הכנסת - נועם מושקוביץ
credit: דוברות הכנסת - נועם מושקוביץ
credit: דוברות הכנסת - נועם מושקוביץ
credit: דוברות הכנסת - נועם מושקוביץ