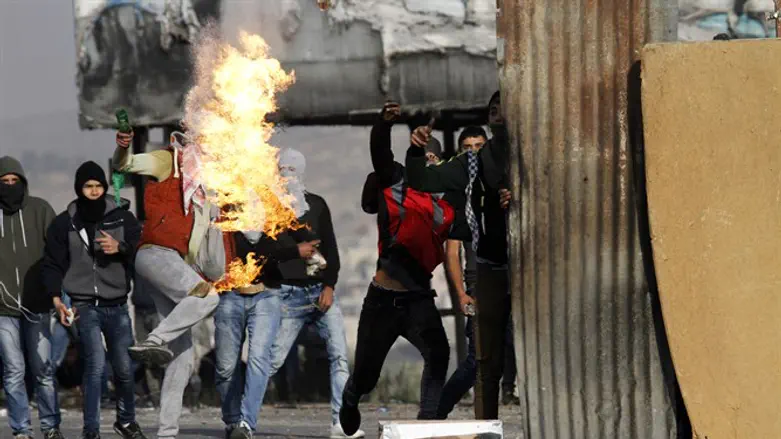 Arab riots (archive)
Nasser Ishtayeh/Flash 90
An Arab rioter was shot and killed by Israeli security forces Tuesday evening during a manhunt for the terrorist responsible for the murder of an Israeli man in Samaria Monday.
Local Arab media claimed Tuesday that IDF forces operating in the Palestinian Authority-controlled city of Shechem (Nablus) had surrounded a house owned by the father of Abed al-Karim Adel Assi, the 19-year-old Israeli-Arab terrorist responsible for the murder of 29-year-old Rabbi Itamar Ben-Gal Monday afternoon in the city of Ariel.
Dozens of Arab rioters confronted Israeli security personnel during the manhunt operation, hurling rocks and firebombs at IDF soldiers.
When IDF forces opened fire on the rioters, one person was hit and killed.
The Palestinian Authority's health department identified the rioter as Khaled Tayeh, a man in his 20s.
The IDF confirmed that forces from the Samaria Regional Brigade operated on Tuesday evening in Shechem in order to locate the terrorist who murdered Rabbi Itamar Ben Gal.
As of 11:00 p.m. on Tuesday evening, the terrorist had not yet been captured. The IDF Spokesperson's Unit said that during the operation in Shechem, some 500 Palestinians rioted, threw rocks, firebombs and explosive devices, erected barricades and fired live ammunition at the forces.
The forces used crowd dispersal measures and fired live ammunition into the air in order to disperse the rioters. During the operation seven suspects were arrested and transferred to security forces for questioning. The IDF said it is investigating Palestinian claims that a person was killed and that several were wounded during the riots.
Earlier on Tuesday, Prime Minister Binyamin Netanyahu vowed that the terrorist from the Ariel stabbing attack would be brought to justice.
"I promised to the widow of Rabbi Raziel Shevach," continued Netanyahu, referring to the 32-year-old Havat Gilad resident gunned down by Arab terrorists last month, "that we would settle the score with his murderer. I congratulate the Shin Bet [internal security agency], the Yamam [police unit] and the IDF who did exactly that."
Earlier Tuesday morning, Israeli security forces eliminated Ahmad Nasser Jarar, the terrorist who headed the cell that murdered Rabbi Raziel Shevach.
"That's exactly how it's going to be with the disgusting murderer of Itamar Ben-Gal," the Prime Minister added. "We all stand with the [victim's] family, we're all with his widow."
Rabbi Ben-Gal was laid to rest Tuesday morning at a cemetery in his hometown of Har Bracha, in Samaria.
Over 1,300 people gathered to pay their last respects, including Knesset Speaker Yuli Edelstein, Minister Uri Ariel, and several MKs.