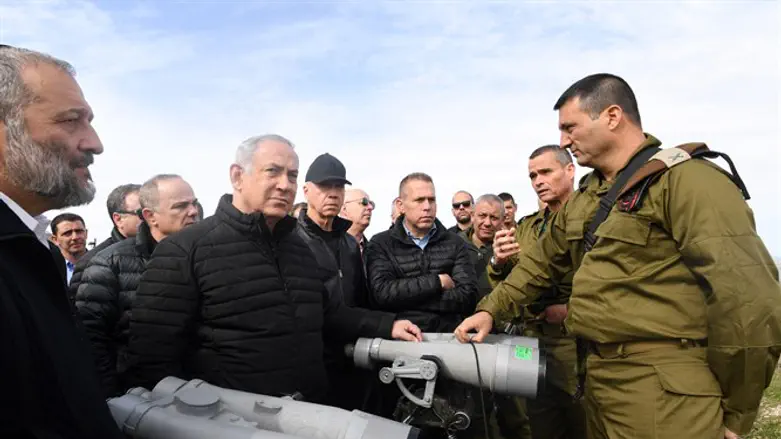 Binyamin Netanyahu and his cabinet visit Golan Heights
Kobi Gideon/GPO
Prime Minister Binyamin Netanyahu and members of his cabinet toured the Golan Heights Tuesday, and visited an IDF position overlooking the Israel-Syria border.
The trip, which was intended to give Israel's senior leadership first-hand knowledge of the country's security challenges, included meetings with senior army officials like IDF Chief of Staff Gadi Eizenkot.
During the visit, Netanyahu vowed that Israel's security forces would bring the Israeli-Arab terrorist responsible for Monday's deadly terror attack to justice.
"I am impressed by the great work the IDF has been doing here to defend our borders and to protect our country," said Netanyahu. "We want peace, but we are ready for situation, and I don't advise anyone to test our resolve."
"I promised to the widow of Rabbi Raziel Shevach," continued Netanyahu, referring to the 32-year-old Havat Gilad resident gunned down by Arab terrorists last month, "that we would settle the score with his murderer. I congratulate the Shin Bet [internal security agency], the Yamam [police unit] and the IDF who did exactly that."
Earlier Tuesday morning, Israeli security forces eliminated Ahmad Nasser Jarar, the terrorist who headed the cell that murdered Rabbi Raziel Shevach.
"That's exactly how it's going to be with the disgusting murderer of Itamar Ben-Gal," the Prime Minister added. "We all stand with the [victim's] family, we're all with his widow."
At approximately 2:26 p.m. Monday afternoon, 19-year-old Israeli-Arab terrorist Abed al-Karim Adel Assi stabbed Rabbi Ben-Gal as he waited by a popular hitchhiking spot in the Samaria city of Ariel.
Ben-Gal suffered a chest wound during the attack, and died shortly afterwards.
The terrorist, a resident of Tel Aviv-Jaffa, is the son of former Palestinian Authority resident from the city of Shechem (Nabulus), where the terrorist reportedly visited on a regular basis.