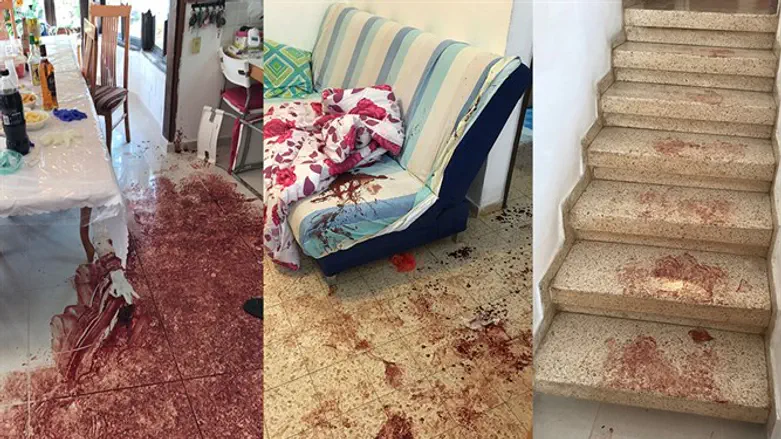 Slaughter in Neve Tzuf
IDF spokesperson
When the terrorist burst into a house in Neve Tzuf (Halamish) and started stabbing the people peacefully eating their Friday night meal, the wife of one of those killed managed to lock five children into a room and call the Police. Her quick thinking stopped the body count from being even higher.
According to reports, as soon as the woman saw the terrorist enter, she shoved five children into a side room, saving them from the terrorist onslaught. Meanwhile, a soldier on leave from the elite Oketz K-9 special forces unit heard what was going on and shot the terrorist through the window, ending the attack in progress.
"I operated instinctively" said A., whose name cannot be revealed due to the special IDF unit in which he serves. "I didn't want to waste time, and fired through the window."
The terrorist, Omer al Abed, had climbed over the fence of Neve Tzuf Friday night, and entered the residents' home, where they had gathered to celebrate the birth of a new grandchild. Al-Abed killed Yosef Tzvi Salomon (70), and his children Haya (46) and Elad (36).
Israeli Prime Minister Benjamin Netanyahu released a statement Saturday night condemning the attack, and calling the terrorist "a beast motivated by wild hatred."