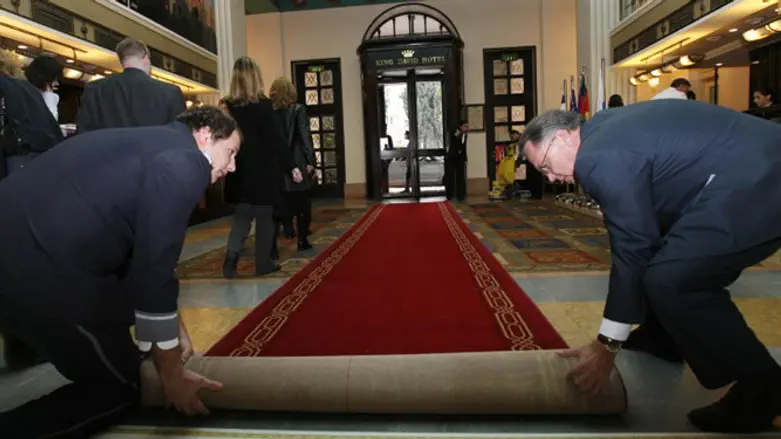 King David Hotel in Jerusalem
Nati Shohat/Flash 90
The King David Hotel in Jerusalem is busy preparing its presidential suite for the upcoming visit of U.S. President Donald Trump, Channel 1 News reported Tuesday.
Trump is not scheduled to arrive until May 22, but the hotel will be emptied of its guests starting this coming Sunday. The guests will be moved to other hotels, as the King David prepares for the visit.
Trump and his wife, Melania, will stay in a room 140 square meters in size which includes a kitchenette with a separate entrance, a jacuzzi and a panoramic view of the Old City.
Staying at such a suite would cost a regular guest 19,000 shekels ($5,200) a night, noted Channel 1.
According to Haim Shkedi, General Manager of the King David Hotel, the Americans "don't have any special demands. They know the hotel. They don't have any unusual expectations. They want to be able to work."
Among the world leaders who have stayed at the same suite are former Egyptian President Anwar Sadat in 1977, King Hussein of Jordan, and former U.S. Presidents Bill Clinton, Barack Obama, George H. W. Bush and George W. Bush.
"They are all very friendly, but we had a special connection with Clinton when he came for Rabin's funeral," Issam Janah, service manager at the King David Hotel, tells Channel 1 News. "He shook everyone's hands, he was friendly."
Watch the Channel 1 News report (in Hebrew):