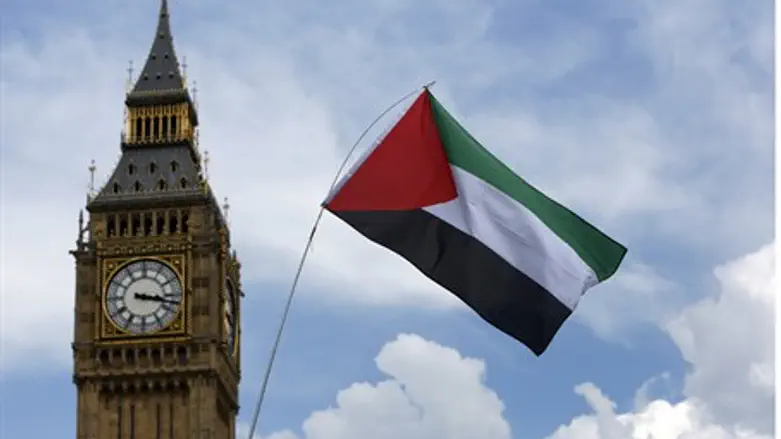 PLO flags in London (file)
Reuters
A Jewish politician from the United Kingdom is asserting that anti-Semitism cost him his seat in British parliament. 
Ousted Conservative MP Lee Scott was beaten during last Thursday's general elections by Labor party's Wes Streeting in the Ilford North constituency. He lost by only 589 votes. 
During the campaign, Scott received death threats and experienced anti-Jewish hatred, all of which he told the Jewish Chronicle on Sunday, contributed to his defeat. 
"There is no question in my mind," Scott said. "I'd been through a lot with the death threats and other stuff going on."
That is a reference to years of abuse the politician suffered from Islamists who called him an "enemy of Muslims." Other constituents targeted the former MP for his Jewish heritage, and his vocalness in defending Israel in Parliament. 
Two years ago, Scott admitted to the Chronicle that he had cried after being called a "dirty Jewish pig" and receiving a death threat while on the campaign trail for re-election in 2010. After the incident, the former MP required police protection. 
As an additional result of incidents like that, Scott did not attend any events by local faith groups during this year's election campaign. 
Now, days after a "distressing" loss, Scott was certain anti-Semitism played a direct role in his defeat. 
"At the end of the day I said I would stand by my support for Israel and my beliefs – I paid the price. But that's life," he said.
While Scott previously worked as United Jewish Israel Appeal regional director in Leeds, he remained mum on plans for the future.