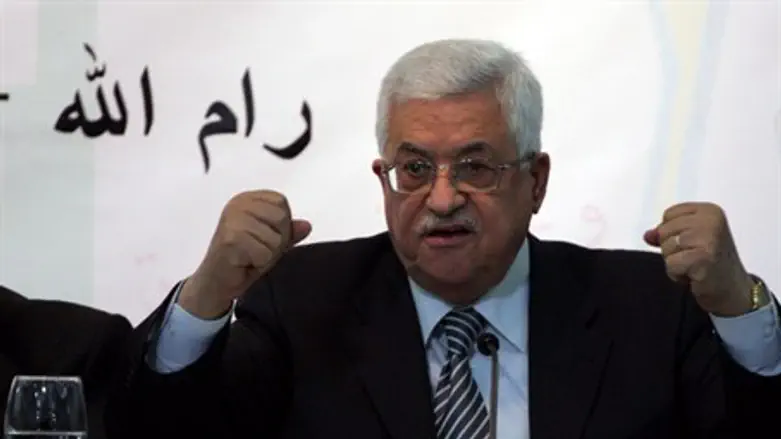 PA Chairman Abbas
Flash 90
Israel's closure of the Temple Mount to all visitors - Jews and Muslims alike - following the shooting of Temple Mount rights advocate Yehuda Glick  is tantamount to a "declaration of war," Palestinian Authority (PA) Chairman Mahmoud Abbas stated Thursday. 
"This dangerous Israeli escalation is a declaration of war on the Palestinian people and its sacred places and on the Arab and Islamic nation," his spokesman Nabil Abu Rudeina quoted him as saying.
"We hold the Israeli government responsible for this dangerous escalation in Jerusalem that has reached its peak through the closure of the Al-Aqsa mosque [Temple Mount - ed.] this morning," he told AFP.
Abbas's spokesman also claimed that closing the Mount for security reasons - not repeated claims by Palestinian leaders that Israel is "waging war" on Arab rioters - is leading to escalation. 
"This decision is a dangerous act and a blatant challenge that will lead to more tension and instability and will create a negative and dangerous atmosphere," he said.
"The state of Palestine will take all legal measures to hold Israel accountable and to stop these ongoing attacks."
Glick - who founded and heads the LIBA Initiative for Jewish Freedom on the Temple Mount - was shot in the chest on Wednesday night outside the Begin Heritage Center in Jerusalem, after the shooter pulled up in a motorcycle or scooter and confirmed his identity before shooting. 
He had been speaking, minutes before being shot, at an event for Jewish rights on the Temple Mount that had hosted leading religious figures and MKs. Likud MK Moshe Feiglin with with Glick as he was shot. 
Earlier Thursday, Israeli Special Forces (Yamam) eliminated 32 year-old Islamic Jihad terrorist Mu'taz Hijazi of Abu Tor in East Jerusalem, the prime suspect in the shooting, after he resisted arrest. Islamic Jihad claimed responsibility for the attack shortly thereafter, saying it was "vengeance for what is going on in Jerusalem," referring to police efforts to tackle ongoing Arab rioting. 
Incitement to intifada
Two weeks ago, Abbas called for Palestinian Arabs to stop Jews from ascending the Temple Mount - Judaism's holiest site - "by all means."
"It is not enough to say the settlers came, but they must be barred from entering the compound by any means. This is our Aqsa... and they have no right to enter it and desecrate it," Abbas said, calling the Jews "a herd of cattle." 
Abbas's remarks were roundly condemned by Israeli officials as clear incitement to violence, sparking new rounds of lawlessness in an already-tense situation in Jerusalem.
They were only the latest such remarks by the PA leader, who has repeatedly called for violence in Jerusalem.
But on Wednesday night - shortly before Glick was shot - Abbas insisted to Israel media that he "was not calling for an intifada." 
"We do not want an intifada," Abbas claimed. "We are not calling for an intifada."
"If we were calling for an intifada, we would have done so during the fifty days of Operation Protective Edge [in Gaza]," Abbas added. "Prime Minister [Binyamin] Netanyahu has forgotten that during those 50 days, not one bullet was fired from the West Bank [Judea and Samaria - ed.]"