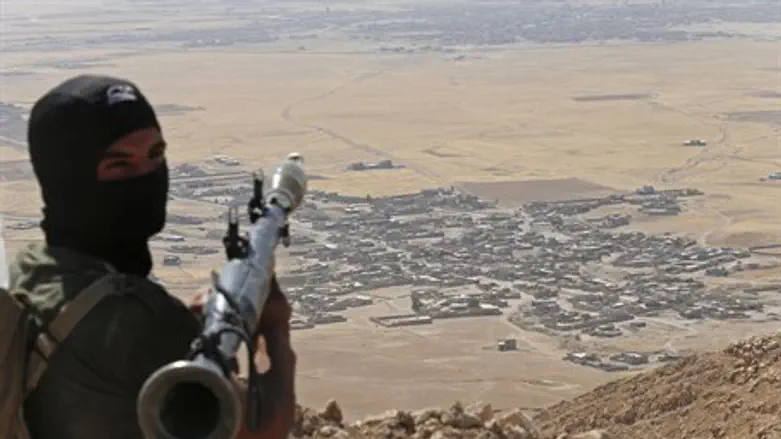 A Kurdish fighter hold a position overlooking
Reuterrs
The US is working directly with Kurdish fighters in the fight against Islamic State (ISIS) terrorists, the State Department announced Thursday, in order to defend the city of Kobane along the Turkish-Syrian border. 
The Kurdish People's Protection Units (YPG) militia, part of Democratic Union Party (PYD), is in contact with US officials outside the tumultuous region, State Department spokeswoman Jen Psaki said.
"This was just one conversation over the weekend," Psaki stated. "So it doesn't represent coordination. It represents one conversation."
Declining to admit to full cooperation with the Kurds, Psaki said nonetheless that Washington will continue to engage with the group, but that it is unclear how "frequent" officials will liaise.
US coordination with Kurdish fighters - while arguably a smart military move - is controversial.
Turkey considers the group to be an offshoot of the Kurdistan Workers' Party, or PKK, a group that has waged a three-decade long bloody insurgency in Turkey for independence. Both the US and EU have blacklisted the PKK as a terrorist organization.
Turkey has joined the US's anti-ISIS international coalition recently, but a closer alignment with the Kurds even at the cost of tension with Turkey may have its merits.
Kurdish intelligence forces may have the most reliable knowledge of facts on the ground, experts say - after Kurdish officials revealed to British media that they had alerted the US months in advance that the extremist group was gaining ground in Iraq. Those warnings, however, were allegedly ignored. 
US Central Command confirmed 14 airstrikes against ISIS near Kobane on Wednesday and Thursday, reports Al Bawaba.
The strikes hit about 20 ISIS buildings, it said, as well as two command posts, three fighting positions, three sniper positions, one staging location and one heavy machine gun.
Following the strikes, Pentagon press secretary Rear Admiral John Kirby said that the focus of US-led efforts in the region is to prevent ISIS from establishing a "safe haven and sanctuary."
"We've killed several hundred of their fighters in just these strikes in and around Kobane," Kirby said. "It would be irresponsible for us not to try to target them in a more aggressive way as they become more aggressive around Kobane itself."
UN envoy Staffan de Mistura warned earlier this week that the fall of Kobane could see thousands of people massacred by ISIS jihadists, as they have done in the past when the opportunity presented itself.
On the political and strategic scale, however, Kobane's fall would present another problem: ISIS gaining a major stronghold along the Turkish border. 
Concerns over ISIS sweeping through Turkish territory - after it already barged into Iraq and engaged in skirmishes in Lebanon and Jordan - are so high that Turkish officials asked the US to step up its offensive against Kobane's fall earlier this month.