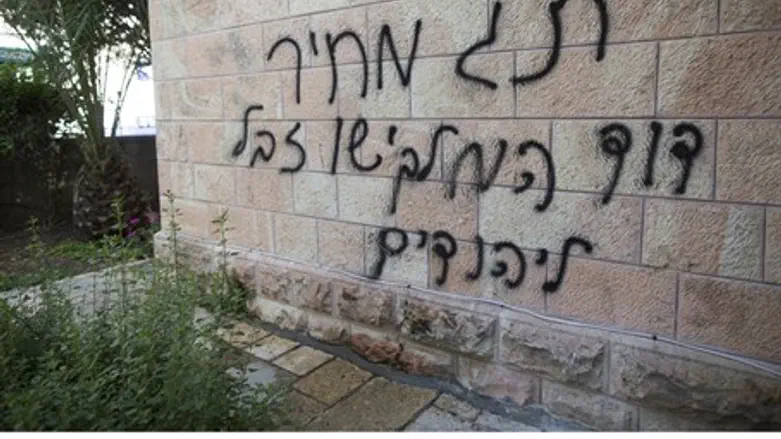 'Price tag' graffiti (file)
Flash 90
Two Jewish youths have been charged with "price tag" vandalism on Arab-owned property, the Justice Ministry said Thursday.
A 16-year-old arrested earlier this month on suspicions of scrawling graffiti on and smashing the door and windows of a Druze dentist's practice in Yokneam, a town in northern Israel, was charged on Thursday, the ministry said.
The minor's name was not made public, in accordance with Israeli law.
On Wednesday, prosecutors filed charges against Adir Yosef, 26, for allegedly damaging an Arab-owned car in Yokneam earlier in May.
According to the charge sheet, 14 "price tag" incidents have occurred around Yokneam in the past three months.
Some have accused the police of overreacting to the wave of reported "price tag" crimes.
In one case two weeks ago, a woman was detained after the arrest of her teenage son allegedly went nowhere. Her son had been detained the previous week after he and another youth were found with markers and nails in their bags.
An Arutz Sheva report in January revealed that in at least some of the cases, anti-Arab "price tags" were being systematically staged by Arab activists.
There have also been numerous incidents of Arab "price tagging", including on the graves of Tannaic scholars in the north and swastikas scrawled on Israeli flags in the heart of Jerusalem, both on the same week as Independence Day. Such incidents receive notably less, if any, media attention.