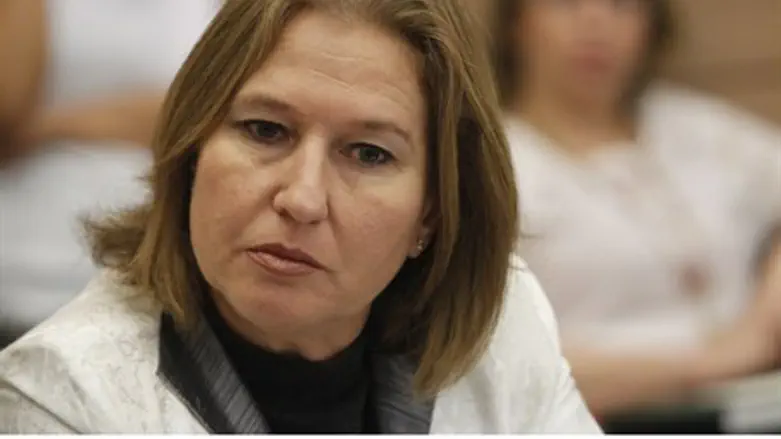 Justice Minister Tzipi Livni
Flash 90
Justice Minister Tzipi Livni is expected to bring a proposal before the ministerial committee for legislation on Sunday that would put an end to the possibility that debtors could be sent to prison.
Livni has expressed concern that measures meant to separate those who cannot pay their debts from those who refuse to pay are inadequate. In practice, those who are simply too poor to pay can be wrongly treated as if they are refusing payment, she warned.
The justice minister also expressed concern that the fear of prison could lead debtors to take desperate steps, such as borrowing money from criminals, that would only make their financial situation worse.
The risk of accidentally jailing an innocent person, or of pushing them into taking on new debt, outweighs the benefit of keeping the threat of jail as a deterrent to non-payment of debt, she argued.
"The importance of paying debts should not be understated. But the purpose of the justice system is to help the weak, not the strong," Livni argued Saturday night.
The bill would not apply to parents who owe money for child support.
Livni expressed hope that her new proposal would benefit creditors as well. The bill includes measures aimed at helping creditors, such as creating a special list for debtors who owe more than 2,500 shekels, and increasing creditors' sources of information regarding debtors' contact information and possessions.