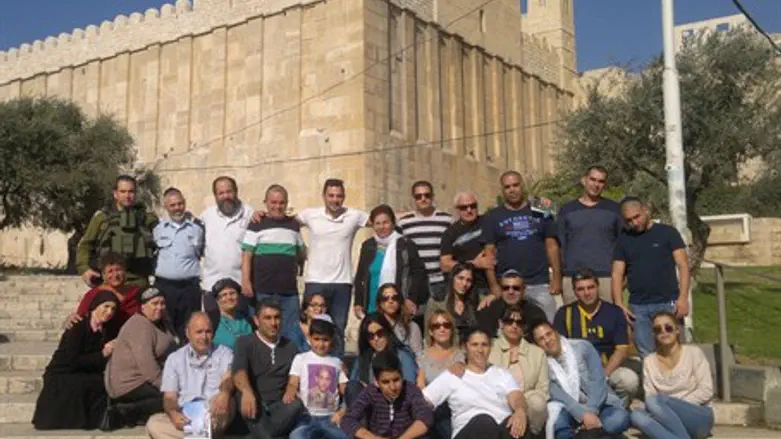 Kobi family in Hevron
Jewish Community Spokesman
The family of First Sergeant Gal Kobi, who was killed by an enemy sniper in Hevron during the Sukkot holiday, visited Hevron Wednesday. The family members wanted to get to know the place in which their beloved Gal had given his life.
The visitors included his father, Oved; his mother, Smadar; and his brothers Orel and Amit, who had come from northern Israel together with many other family members. They were warmly received by members of the Jewish community in Hevron and by local IDF soldiers.
Youths from Hevron's Jewish community also accompanied the family's tour. They had gotten to know the family in the course of the shiva for Gal Hy"d, at their home in the Tirat Hacarmel section of Haifa.
The visit's final stop was the Cave of Machpela, where the Yitzhak Hall – which is closed off to Jews during most of the year – was opened especially for them.
Oved summed up the visit, saying: "I thank you, residents of Hevron, for the hospitality and for our right to come here. We were very moved by the visit and the reception. We truly appreciate this, from the depth of our hearts, and hope to meet in happier circumstances."
Gal, a Givati Brigade soldier, was shot in the neck by a sharpshooter in the Avraham Avinu neighborhood near the Cave of Machpela, at about 6:30 p.m. on Sunday, September 22. A Magen David Adom crew treated him and he was later taken by helicopter to Hadassah Ein Kerem Hospital in Jerusalem, but the doctors could not save his life.
The sharpshooter may have hid between buildings in an Arab neighborhood next to the Jewish section of the city.
credit: דוברות היישוב היהודי בחברון
credit: דוברות היישוב היהודי בחברון
credit: דוברות היישוב היהודי בחברון
credit: דוברות היישוב היהודי בחברון
credit: דוברות היישוב היהודי בחברון