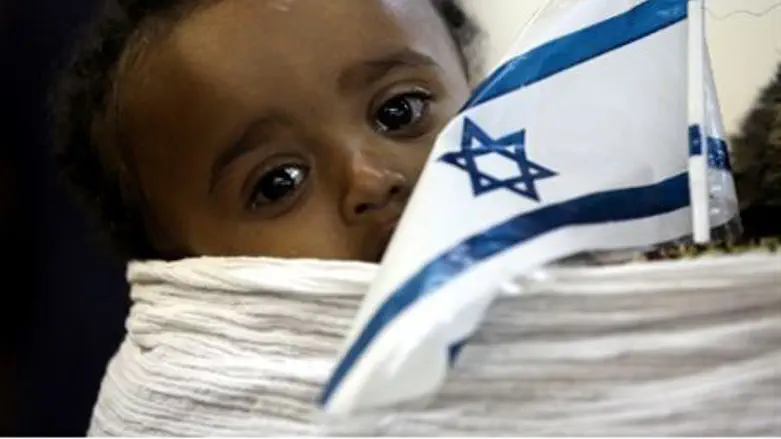 Ethiopian Jewish Baby Holds Israeli flag
Flash 90
A final flight of 400 Ethiopian immigrants is set to arrive in Israel on Wednesday, as the Jewish Agency ends its decade-long campaign of bringing Jewish Ethiopians to Israel.
Natan Sharansky, Head Chairman of the Jewish Agency, and Israeli Minster of Immigrant Absorption, Sofa Landver, will attend a farewell ceremony at the Israeli embassy in Addis Ababa before the group of immigrants set out for their new home.
In the past, Israel has conducted three major operations of Ethiopian immigration; the first being Operation Moses in 1984 which evacuated 8,000 Ethiopian Jews from Sudan. In 1992, the second wave of Ethiopian immigrants came on Operation Solomon. Finally, Operation Dove's Wings began last October, chartering 91 flights from Ethiopia and bringing a total of 7,000 Ethiopian Jews.
In 2010 the Jewish state welcomed thousands of "Falash Mura," Jews whose ancestors were forced to convert to Christianity. Many American and Israeli organizations advocating for Ethiopians pressured Israel to take in the immigrants who had been waiting to come to Israel to reunite with their family members.
The Jewish Agency set up a Jewish school in Gondar to be a transit point for these Ethiopian immigrants, offering educational activities and welfare services for those eligible for living in Israel. The school now belongs to the municipality, after the final group of Falash Mura is set to arrive in Israel today.
"Jews lived in Gondar for 2,500 years. However, their longing to return home never weakened," agency chairman Natan Sharansky said.
"Today we bring to an end a journey that spans thousands of years – the conclusion of Operation Wings of a Dove."