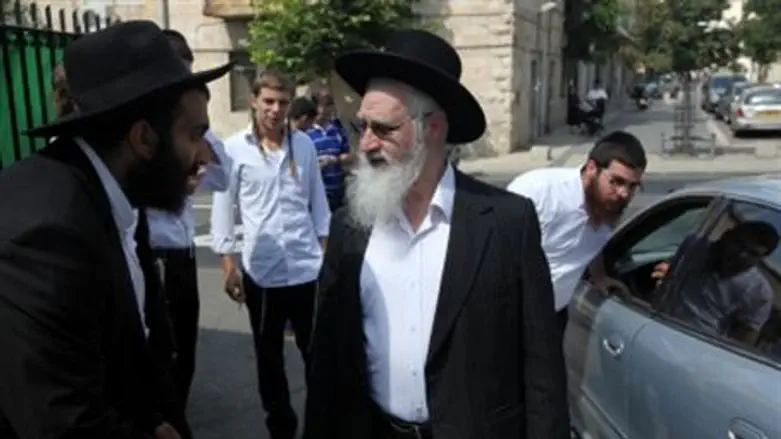 Rav Yaakov Yosef
Israel news photo: Flash 90
Thousands of people are expected to attend a rally outside the Supreme Court in Jerusalem early Monday evening, to protest what they see as hostile treatment of respected rabbis by the judicial authorities. The protest follows the questioning of Rav Dov Lior and Rav Yaakov Yosef by police over the "haskama" (rabbinical approbation) they gave to a book that discusses the halachic views on the morals of war. 
The rally had been planned in advance and 100 buses were rented in order to ferry the participants to the capital. However, following the arrest of Rav Yosef Sunday morning, the number of participants – and buses – is expected to grow.
Rav Lior, who was arrested last Monday, called Rav Yosef Sunday and expressed his support for him. He called on Yosef not to weaken or break despite the legal system's persecution and to continue to "firmly insist on voicing the opinion of Torah without fear." 
Besides Rav Lior and Rav Yosef, the rabbis who will speak at the rally include Rav Shmuel Eliyahu, Rav David Dudkevitz, Rav Chaim Druckman, Rav Eliezer Valdman, Rav Shmuel Yaniv, Rav David Chai Cohen, Rav Shimon Cohen, Rav Elyakim Levanon, Rav Yeshayahu Meitlis, Rav Zalman Baruch Melamed, Rav Mordechai Nagari, Rav David Fendel, Rav Tzvi Farbstein, Rav Gideon Perl,
Rav Nachum Rabinovich, Rav Chaim Retig and Rav Yehoshua Shapira. 
Knesset members are also expected to speak.
The organizers decry what they call "an arrogant political campaign of silencing [opponents], exemplified by the arrest pf Rav Lior and Rav Yosef, and their questioning over the haskama they gave to a book of halachic exposition."