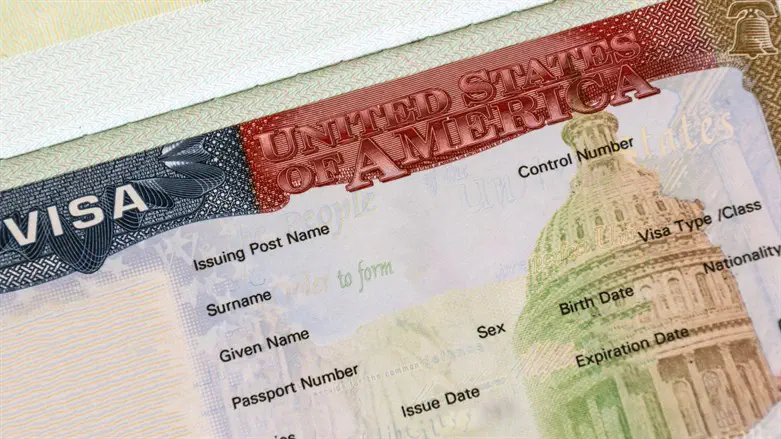 US visa
iStock
US Secretary of State Antony Blinken in recent days signed a letter recommending that Homeland Security Secretary Alejandro Mayorkas allow Israel to join the US Visa Waiver Program, Axios reported on Tuesday, citing two sources briefed on the issue.
While Blinken's letter is largely a technical procedure, it is needed in order for Mayorkas to make a final decision on whether Israel can join the program, which allows a country's citizens to travel to the US for 90 days without first obtaining a visa. The deadline for the decision is September 30.
In his letter, Blinken made clear that Israel has met the criteria for entering the visa waiver program, the two sources said.
The report comes a day after the Foreign Ministry in Israel said it expects the United States to announce this week that Israel will be admitted to the Visa Waiver Program.
However, the State Department was quick to pour cold water on the statement, with a spokesperson indicating that no final decision had yet been made on Israel's candidacy for the Visa Waiver Program.
The US and Israel in mid-July signed a memorandum of understanding (MOU) setting the conditions for Israel's entry into the program.
Since signing the MOU, Israel has been going through a pilot program during which the State Department and the Department of Homeland Security have been reviewing and scrutinizing the implementation of the new regulations toward Palestinian and Arab Americans by the Israeli authorities.
Israeli officials told Axios that the US unofficially notified them on the sidelines of President Biden's meeting with Prime Minister Benjamin Netanyahu last week that the administration is going to announce Israel's entry into the program within days.
Under the stewardship of former US Ambassador to Israel Thomas Nides, Israel reached several significant milestones in the process, including helping the refusal rate for tourist visa applications to fall to below the three percent benchmark set by the US State Department, while the Knesset finalized legislation allowing Israel to share biometric data with the US.
Last month, several sources involved in the Israeli effort to join the US Visa Waiver Program told Kan 11 News that the matter is progressing.
The sources said that the matter is progressing, and the Americans are satisfied. "We're optimistic," they stated.