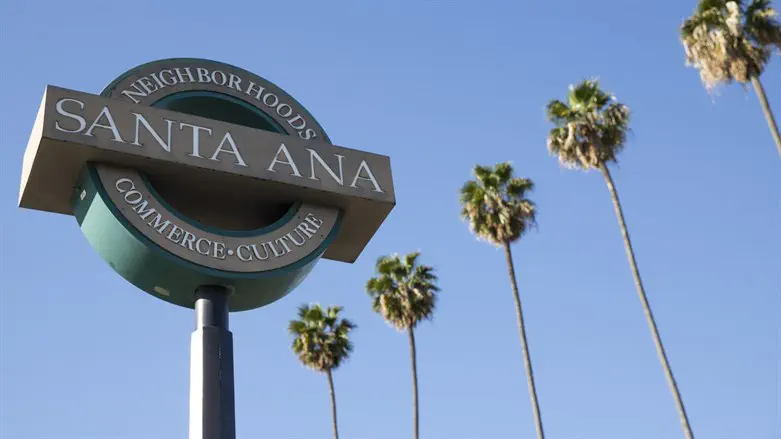 Santa Ana, California
iStock
Several Jewish groups are suing a large school district in Orange County over an ethnic studies curriculum they allege is antisemitic and was approved covertly in violation of California law requiring public participation in decision making.
The lawsuit, filed Monday by the Anti-Defamation League (ADL), the Louis D. Brandeis Center for Human Rights Under Law, the American Jewish Committee and Potomac Law Group, with support from StandWithUs, seeks to bar the Santa Ana Unified School District from implementing the recently-approved curriculum.
The lawsuit is an early entrant into what could become a crowded field now that California has delegated decision-making over mandated high school ethnic studies to hundreds of school districts. That decision followed a bruising fight over the handling of Jewish issues in a statewide curriculum.
At issue is material that the groups say promotes a biased narrative of Israel's treatment of "Palestinians" and portrays Israel as illegitimate by applying labels such as "settler colonial" and "racist" to it. The lawsuit alleges that the school board robbed the public of opportunities to object when it held discussions about the curriculum in private, in apparent violation of a legal requirement for open meetings, and failed to give enough notice before public deliberation. When it did allow public comment, the lawsuit says, the board allegedly failed to protect Jews who spoke against the curriculum from harassment and intimidation.
"It's clear that the Santa Ana Unified School District violated the law in their rush to approve antisemitic content within their ethnic studies curriculum," said James Pasch, a senior director of national litigation for the ADL. "Closed-door discussions prevented input from marginalized communities — in direct contrast to the goal of the ethnic studies program, which is to support marginalized communities."
The district, which educates about 45,000 students, doesn't comment on pending litigation but a spokesperson provided a previously released statement about the curriculum controversy. The district says it has developed its curriculum with input from the Jewish, Palestinian Arab and Muslim communities and that the approved material falls within academic norms and adheres to state guidelines.
"The goal is to provide balanced, multiple perspectives from all groups involved in the Israeli-Palestinian conflict," the district's statement says.
Not all Jews in Santa Ana agree with the position of the lawsuit that the curriculum is antisemitic.
Shira Klein, a local Jewish parent who chairs the history department at nearby Chapman University and researches antisemitism, said she read the curriculum approved by the school district from cover to cover and found little that was objectionable.
Klein, who recently helped organize an open letter calling on protesters against Israel's government to focus more on Palestinian Authority Arabs, said she thought the criticism of Israel appearing in the material is appropriate and should not be conflated with antisemitism.
"I see nothing in this unit that is antisemitic and nothing that strays from mainstream academic findings," Klein said. "I can well imagine a Jewish student in Santa Ana feeling uncomfortable in class, and it pains me, but to change that, we need to change the reality in Israel, not the curriculum."
Meanwhile, Robin Gurien, another local Jewish parent, who teaches communications at Cal State Fullerton in Orange County, said she supports the lawsuit calling content in the curriculum "antisemitic" and "inaccurate."
"Until now, the district has been unwilling to address these concerns, and this lawsuit is an important and necessary step to make sure that this dangerously biased content is removed from Santa Ana classrooms," said Gurien, who spoke against the curriculum in public meetings before its adoption.
The dispute in Santa Ana represents the next phase in a fight over mandated ethnic studies in high schools that started at the state level and went on for years before lawmakers gave hundreds of local school boards power to decide how to handle curriculum decisions regarding the mandate.
Jewish groups successfully lobbied state lawmakers to get content they said was aligned with the Israel boycott movement out of a proposed state curriculum and lessons about antisemitism added in.
But rather than make the curriculum mandatory for all school districts as originally planned, state lawmakers were persuaded to further change their legislation and recommend the curriculum developed by the state while allowing local boards freedom to create their own ethnic studies materials instead.
That outcome ended the state-level fight but opened up battles in Santa Ana and other places where school boards went on to pick curriculums that Jewish groups thought they had successfully mobilized to strike down.