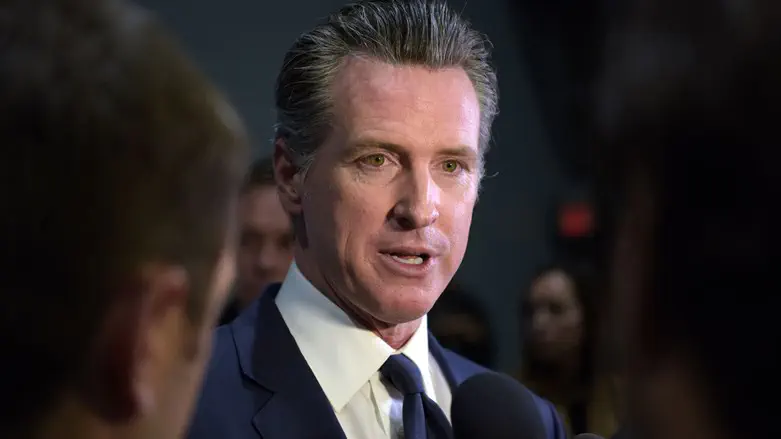 California Gov. Gavin Newsom
Agustin Paullier/AFP via Getty Images
California Jewish groups applauded a letter from the state's education board saying that high school courses meeting an ethnic studies mandate must avoid "bias, bigotry, or discrimination against any person or group of persons."
The letter comes at the start of the school year, and nearly two years after Gov. Gavin Newsom signed legislation making California the first state to require all public high school students to complete a semester-long course in ethnic studies. California Jewish groups aired concerns that curriculums they feel are anti-Israel or antisemitic will be used at school districts across the state.
The goal of the ethnic studies requirement is to increase knowledge of the state's ethnic minorities and their histories. The graduation requirement in the topic is set to take full effect in 2029, and schools must begin offering such courses in 2025. Many schools have already begun offering the courses.
The effort has been mired in controversy since a draft of a model curriculum was published in 2019 that, Jewish groups said, excluded their experiences and included anti-Israel sections. Newsom came out against that draft, and revisions of the model curriculum removed the anti-Israel content and added lessons on the experiences of Jews in California.
But school districts are still free to determine their own ethnic studies curricula. According to J, The Jewish News of Northern California, advocates of the original draft, who blamed "rightwing pressure" for the revisions, are encouraging districts to adopt curricula that better reflect the first draft.
A letter from dozens of Jewish leaders across the state to Newsom and other state officials, sent in late June, claimed that antisemitic and anti-Israel content was being taught as schools began to introduce the new courses.
"These challenges have led our community organizations to invest thousands of hours towards ensuring ethnic studies courses will not promote bias, bigotry, or discrimination against Jewish and Israeli students," reads the letter, which was spearheaded by the Jewish Public Affairs Committee of California, or JPAC, and co-signed by local Jewish federations and branches of the Anti-Defamation League and the American Jewish Committee.
Wednesday's letter, signed by Brooks Allen, the executive director of the California State Board of Education, appears to come in response to those concerns.
It reiterated three requirements for ethnic studies courses, mandating that they "be appropriate for use" with students coming from a range of backgrounds; "not reflect or promote" bias or discrimination; and not promote religious doctrine.
In addition, the letter cautioned, the education board learned that "some vendors are offering materials that may not meet the requirements of [the legislation], particularly the second requirement above," regarding avoiding bias and discrimination. The letter called that requirement "an important guardrail highlighted when the bill was signed."
Jewish groups, including JPAC, thanked Newsom and the education board for the letter. JPAC called the governor "a consistent ally to the Jewish community" and added that the letter constituted a "major step in the right direction."
"There is still a lot of work ahead to implement robust ethnic studies courses across California's schools that are also free from antisemitism and anti-Zionism," JPAC's statement said. "We know the Governor will continue to work with us in this effort."