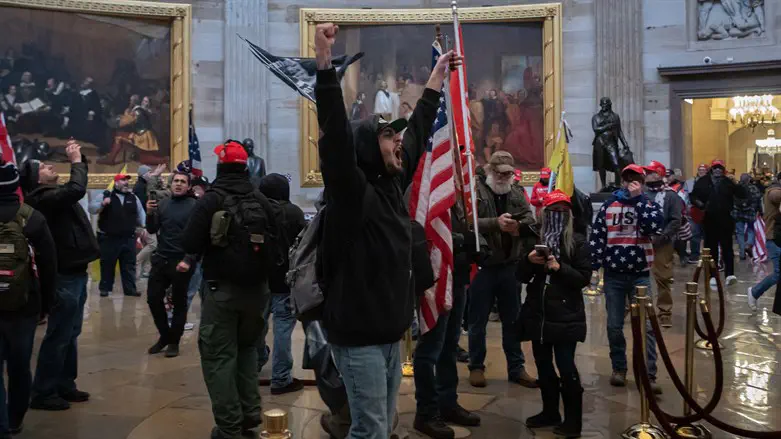 Pro-Trump protesters inside the US Capitol building
Reuters/Michael Nigro/Sipa USA
Former Proud Boys Chairman Enrique Tarrio was sentenced on Tuesday to 22 years in prison for seditious conspiracy and leading a failed plot to prevent the transfer of power from Donald Trump to Joe Biden, CNN reported.
The sentence from District Judge Timothy Kelly is the longest given to anyone in relation to the January 6, 2021, US Capitol attack.
"The jury didn't convict anyone for engaging in politics, they convicted Mr. Tarrio and others of engaging in seditious conspiracy," Kelly said. "I don't have any indication that he is remorseful for the actual things he is convicted of, which is seditious conspiracy and conspiracy to obstruct the counting of electoral votes."
"Mr. Tarrio was the ultimate leader of that conspiracy," Kelly said. "I don't really think this is super debatable."
He added, "I do think the evidence supports the inference that Mr. Tarrio was the ultimate leader, the ultimate person who organized, who was motivated by revolutionary zeal."
Tarrio was arrested in Washington, DC, days before the riot for burning a DC church's Black Lives Matter banner and bringing high-capacity rifle magazines into the district, and was ordered by a judge to leave the city.
Kelly said that while Tarrio may not have been present at the Capitol during the attack, the Proud Boys leader "had an outsized impact on the events of the day. "
His sentencing comes days after two former leaders of the Proud Boys group, Joseph Biggs and Zachary Rehl, were sentenced to more than a decade each in prison for spearheading the January 6, 2021 attack on the US Capitol.
A day later, Dominic Pezzola, a member of the Proud Boys who smashed through a window to the US Capitol with a police riot shield on January 6, 2021, was sentenced to 10 years in prison.
While the 22-year sentence is the longest for any January 6 defendant, the Justice Department had sought 33 years in prison for Tarrio.