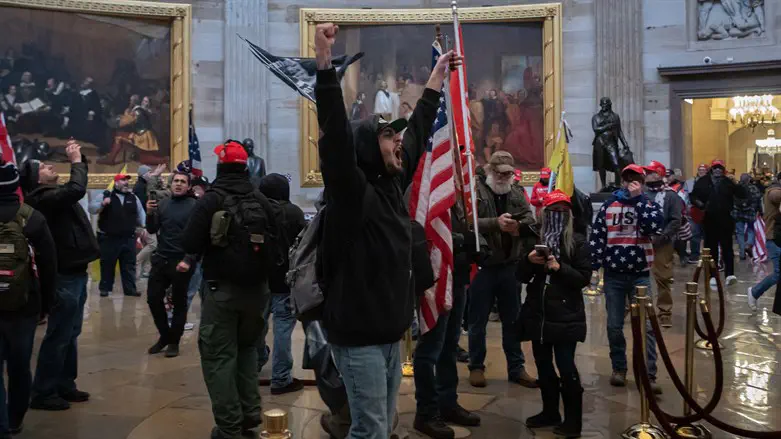 Pro-Trump protesters inside the US Capitol building
Reuters/Michael Nigro/Sipa USA
Dominic Pezzola, a member of the Proud Boys who smashed through a window to the US Capitol with a police riot shield on January 6, 2021, was sentenced on Friday to 10 years in prison, CNN reports.
Images of Pezzola, nicknamed "Spazzolini," using the police riot shield to first breach the Capitol building quickly became a symbol of the violence that day.
"The reality is you were the one who did it," District Judge Timothy Kelly said during the hearing Friday. "You were the one who smashed that window in and let people begin to stream into the Capitol building and threaten the lives of our lawmakers. It is not something I would have ever dreamed I'd see in our country."
"You were really, in some ways, the tip of the spear," the judge said.
Pezzola was the only one of the five Proud Boys defendants not convicted of seditious conspiracy. He joined the Proud Boys shortly before January 6, according to evidence shown at trial, and was praised by the organization's leadership for his violent actions at a separate rally weeks before the Capitol riot.
His sentencing comes a day after two former leaders of the Proud Boys group were sentenced to more than a decade each in prison for spearheading the January 6, 2021 attack on the US Capitol.
The 17-year prison term for organizer Joseph Biggs and 15-year sentence for leader Zachary Rehl were the second and third longest sentences handed down yet in the case.
They were the first Proud Boys to be sentenced by Kelly, who will separately preside over similar hearings of three others who were convicted by a jury in May after a four-month trial in Washington.
In a written statement read aloud by prosecutors earlier this week, former Capitol police officer Mark Ode, who was assaulted by Pezzola, recounted being attacked by the mob and feeling like his life was leaving his body.
Ode wrote that he was haunted by the memory of being "pinned down by multiple assailants, being pinned down by all of their weight, while simultaneously being choked by the chinstrap of my helmet."
During Friday's sentencing hearing, prosecutor Erik Kenerson said that "many Americans will approach the ballot box in 2024 with trepidation" and "will go to bed on January 5, 2025 afraid of what might happen the next day. Mark Ode certainly will."
Pezzola apologized to Ode, saying, "I need to extend my sincere apology to Officer Ode, and if he were here, I would look him in the eyes an apologize for all the grief I caused him."
Pezzola also apologized to his wife and children and the country, adding that "the events of J6 have crumbled the reputation of the nation I served in the Marine corps."
(Israel National News' North American desk is keeping you updated until the start of Shabbat in New York. The time posted automatically on all Israel National News articles, however, is Israeli time.)