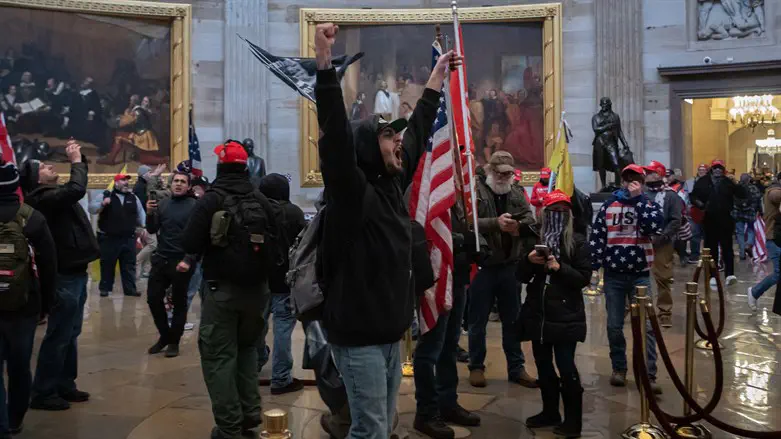 Pro-Trump protesters inside the US Capitol building
Reuters/Michael Nigro/Sipa USA
Two former leaders of the far-right Proud Boys group were sentenced on Thursday to more than a decade each in prison for spearheading the January 6, 2021 attack on the US Capitol, The Associated Press reported.
The 17-year prison term for organizer Joseph Biggs and 15-year sentence for leader Zachary Rehl were the second and third longest sentences handed down yet in the case.
They were the first Proud Boys to be sentenced by US District Judge Timothy Kelly, who will separately preside over similar hearings of three others who were convicted by a jury in May after a four-month trial in Washington.
Enrique Tarrio, a Miami resident who was the Proud Boys' national chairman and top leader, is scheduled to be sentenced Tuesday. His sentencing was moved from Wednesday to next week because US District Kelly was sick.
Tarrio was not in Washington on Jan. 6. He had been arrested two days before the Capitol riot on charges that he defaced a Black Lives Matter banner during an earlier rally in the nation's capital, and he complied with a judge's order to leave the city after his arrest. He picked Biggs and Proud Boys chapter president Ethan Nordean to be the group's leaders on the ground in his absence, prosecutors said, according to AP.
Rehl, Biggs, Tarrio and Nordean were convicted of charges including seditious conspiracy, a rarely brought Civil War-era offense. A fifth Proud Boys member, Dominic Pezzola, was acquitted of seditious conspiracy but convicted of other serious charges.
Defense attorneys argued that the Justice Department was unfairly holding their clients responsible for the violent actions of others in the crowd of Trump supporters at the Capitol.
Biggs, of Ormond Beach, Florida, acknowledged that he "messed up" on Jan. 6, but he blamed being "seduced by the crowd" of Trump supporters outside the Capitol and said he's not a violent person or "a terrorist."
During the trial, jurors saw a trove of messages that Proud Boys leaders privately exchanged in the weeks leading up to the Capitol riot, including Biggs encouraging Tarrio to "get radical and get real men" after Trump announced plans for a rally on Jan. 6, according to AP.
That day, dozens of Proud Boys leaders, members and associates were among the first rioters to breach the Capitol. Before the first breach, Biggs used a megaphone to lead rioters in chants of "Whose Capitol? Our Capitol!"
Biggs "acted as the tip of the spear" during the attack, prosecutors said in a court filing.
For Rehl, who also helped lead Proud Boys, prosecutors asked for a 30-year prison sentence. He was seen on video spraying a chemical irritant at law enforcement officers outside the Capitol on Jan. 6, but he repeatedly lied about that assault while he testified at his trial, said prosecutor Erik Kenerson.
Rehl also led at least three other men into the Capitol and into a senator's office, where he smoked and posed for pictures while flashing the Proud Boys' hand gesture, prosecutors said in court documents.
Defense attorney Norman Pattis, who represents Biggs and Rehl, said they are "misguided patriots," not terrorists, and said long sentences would fuel division.
Prosecutors have also recommended prison sentences of 33 years for Tarrio, 27 years for Nordean and 20 years for Pezzola. Nordean and Pezzola are scheduled to be sentenced Friday.
More than 1,100 people have been charged with Capitol riot-related federal crimes. Over 600 of them have been convicted and sentenced.