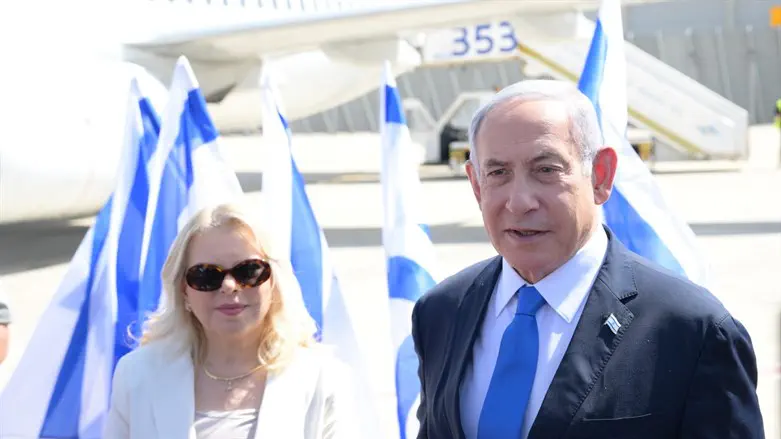 Netanyahu before leaving to Cyprus
Amos Ben Gershom/GPO
Prime Minister Benjamin Netanyahu, before boarding a flight to Cyprus on Sunday, spoke about the violent riots by infiltrators in Tel Aviv and referred to them as "an actual threat to the character and future of Israel as a Jewish and democratic state."
"To deal with it, we did two things. The first thing was to build a barrier to stop the en-mass migration. The second was to deal with those infiltrators who entered the country. Regarding the barrier, I insisted, and in the end, governments led by me built the fence on the Egyptian border, which stopped, in a safe estimate, at least a million infiltrators. This problem isn't over, Africa will double its popularity in the next 20 years. Israel, thanks to the economic policy I led, has become one of the richest countries in the world. Africa, unfortunately, has famine, and the economy isn't progressing, which can lead to another wave of infiltrators. Therefore, a few weeks ago, I ordered the construction of an eastern fence, and through this, first of all, to ensure we have a Jewish and democratic country," Netanyahu stated.
He added that "regarding those who already entered, several tens of thousands. We deported 12 thousand. We did not do what I think would have caused a disaster if we had accepted it, and that's the UN's proposal, which would have granted citizenship to 16 thousand infiltrators. This would have created a huge magnet for millions of Africans to attempt to enter Israel, and that would have destabilized us. This is not the solution. The solution is to willfully remove them or through other means. Unfortunately, the court did not approve five of such steps, including the recent Deposits Law. I hope we can do this."
Netanyahu emphasized: "What happened yesterday in Tel Aviv crosses a red line. First of all, I wish a full recovery to the officers who were injured. Today, during a meeting of the special ministerial committee I established, we asked for several quick steps, including the deportation of a thousand supporters of the (Eritrean) regime who participated in these riots. They have, obviously, no claim as refugees. They support this regime. If they so much support this regime, it would be good for them to return to their country."
Magen David Adom teams treated over 100 individuals with injuries of varying levels of severity after Eritrean asylum seekers who oppose the regime in Eritrea and pro-regime activists clashed with each other and Israeli police in south Tel Aviv.
Of the injured, 30 are police officers. Predominantly, these injuries comprise bruises, many resulting from stones and discarded objects.