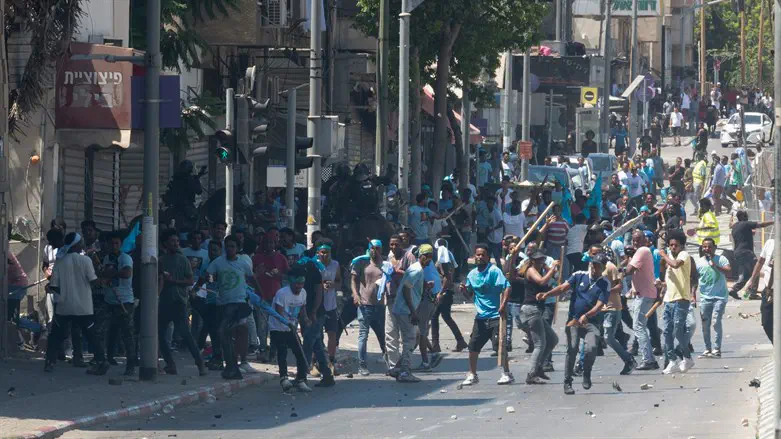 המהומות בתל אביב
Omer Fichman/Flash90
A violent protest in Tel Aviv of foreign nationals from Eritrea ended with dozens wounded.
Eritrean asylum seekers who oppose the regime in Eritrea and pro-regime activists clashed with Israeli police in south Tel Aviv.
Magen David Adom teams treated a total of 114 individuals.
The injuries span across various levels of severity: 8 individuals are in a serious condition, 13 have sustained moderate injuries, 93 have incurred mild injuries.
Of the injured, 30 are police officers. Predominantly, these injuries comprise bruises, many resulting from stones and discarded objects.
The Magen David Adom blood services have been instrumental, supplying hospitals with 130 doses and blood components to streamline the medical care for the injured.
Deputy Director of Operations at Magen David Adom Dan Region, Lior Marmelstein, said: "Since the early hours, when the first alarms regarding violent confrontations involving foreign nationals from Eritrea in Tel Aviv were relayed to Magen David Adom's 101 emergency center, our response was both immediate and comprehensive."
"We've strategically bolstered our EMTs and paramedic units, utilizing ambulances, ICU vehicles, emergency motorcycles, and specialized rescue squads. This also meant an infusion of volunteers and drivers to our units. Thus far, our teams have attended to 114 individuals, with 8 in serious condition and 13 with moderate injuries.
"A considerable number of the injured, 30 to be exact, are police personnel, mainly with minor injuries. Amidst this unrest, Magen David Adom remains vigilant and primed, ready to deliver medical care as circumstances unfold."