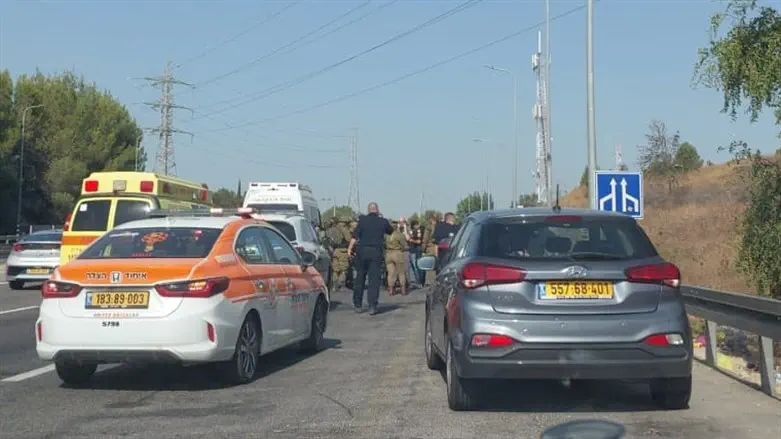 scene of the ramming
United Hatzalah
Finance Minister Bezalel Smotrich arrived this morning (Thursday) at the scene of the deadly ramming attack on Route 443 and placed the responsibility for the attack on the Palestinian Authority.
"This is a serious incident. I send my condolences to the family of the murdered man and best wishes for a speedy recovery to the injured. The serious results of this attack demonstrate the importance of barriers," Smotrich said.
"We are not prepared under any circumstances to accept terrorism as unavoidable. There is a supportive environment here, there is incitement here, there is a Palestinian Authority here that bears responsibility for this," he added.
Intelligence Minister Gila Gamliel said: "I send my condolences to the family of the person who was killed in this morning's stampede attack and wish a speedy recovery to the wounded and to the soldiers who were injured last night during activity in Shechem. The security forces who quickly caught the despicable terrorist will continue to operate around the clock to preserve the lives of our citizens of the country."
MK Tzvi Sukkot said: "I am greatly saddened and embrace the family of the murdered man at this difficult and terrible time. Another Jewish person was murdered just because he was Jewish."
National Unity party chairman Benny Gantz said: "Another difficult morning. Murderous terrorism is once again taking human lives. I would like to share in the grief of the family of the murdered, to wish a speedy recovery to the injured, and to praise the response of the IDF and the security guards of the Crossings Authority, which led to the neutralization of the terrorist. We also remember this morning that Israeli resilience is stronger than terrorism. With determination and responsibility, we will overcome our enemies."
Noam party chairman MK Avi Maoz said: "We need to restore deterrence. Deporting the families of the terrorists is a temporary solution to restore deterrence. We send wishes for a full recovery of those who were injured in the serious attack this morning at the Maccabim checkpoint and send our sincere condolences to the family of the murdered man. Thank you to the security guards for your quick elimination of the Arab terrorist."
credit: דובר צה"ל
credit: דובר צה"ל
credit: דובר צה"ל
credit: דובר צה"ל
credit: דובר צה"ל
credit: דובר צה"ל
credit: דובר צה"ל